The Most Amazing And Hilarious Jay Z Vines Of 2014
15 December 2014, 15:06 | Updated: 22 December 2014, 17:27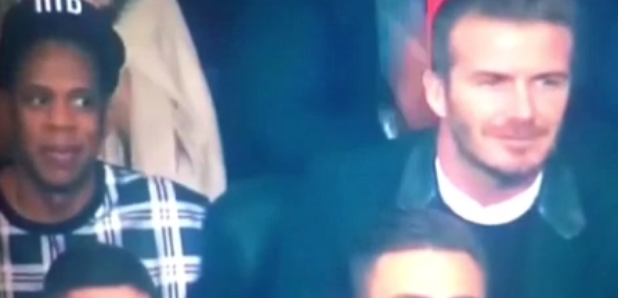 Because Jay Z's facial expressions can say a lot in just six seconds.
It might have been completely unintentional, but Jay Z has become the king of Vine in 2014. Be it the time he went to the football with David Beckham or the time he was caught off guard in Paris, every one of the 'Holy Grail' rapper's best moments (and most hilarious facial expressions) have been captured in a perfect six second video. Check out some of the best of 2014 below.
1. The Vine that caught the moment Jay Z gave up trying to understand football.
Back in October David Beckham took his good friends Beyoncé and Jay Z to watch his former football team Paris Saint-Germain. While the three got comfortable and watched the match against Barcelona, it became increasingly clear that Jay Z seriously didn't know what was going on.
2. The Vine that caught Jay Z's reaction at Blue Ivy dancing to her mummy.
Beyonce's performance at the MTV Video Music Awards in Los Angeles this year was one of the greatest in the ceremony's history, with the star performing 14 songs in just 16 minutes... But no one enjoyed it as much as Blue Ivy did.
3. The Vine that followed the family backstage after Beyoncé's VMA performance.
"Everybody say good job!"
4. The Vine that showed the moment Jay Z and Beyoncé approached Prince William and Kate Middleton.
When Beyoncé and Jay Z spotted British royalty on their turf, at a basketball game at the Barclays Centre in Brooklyn, New York, they decided to cross the court and approach them in a way that only Beyoncé and Jay Z could.
5. The Vine that showed just what Jay Z thought of LeBron's game.
Not impressing Jay Z, LeBron.
6. The 'Who Are You?' Vine.
The story is simple. A confused tourist saw some cameras following Jay Z and asked him; "Who are You?" Clearly quite offended, Jay Z merely responded; "Who are you?" and it was perfect.
7. Possibly an even better Jay, Bey and LeBron Vine came when this happened...
Oh dear, Beyoncé, watch where your eyes fall.
8. Jay Pharoah's ridiculous impression of your boy Hova.
Mind blown.
9. (Bonus Vine) Courtesy of Jay Z's accountant, the best Vine of 2013.