J. Cole's Studio Raided By SWAT Team Due To 'Racism', Says Producer
13 December 2016, 11:38 | Updated: 13 December 2016, 12:08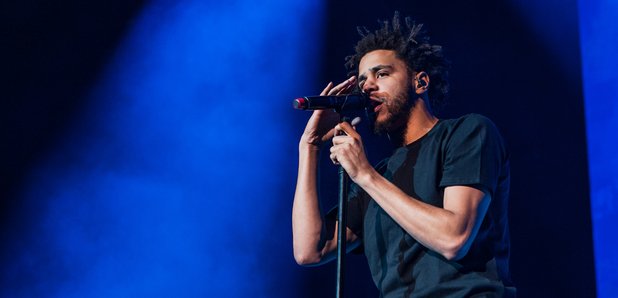 The incident occurred during the recording of '4 Your Eyez Only'.
J. Cole's studio was raided by a SWAT team during the recording of '4 Your Eyez Only', according to friend and fellow producer Elite.
According to Elite, the rapper's Dreamville studio in North Carolina was raided by the police after neighbours told authorities that drugs were being grown and sold in the house.
"It's in the suburbs of a pretty wealthy neighbourhood in North Carolina," said Elite, "Every once in awhile you'll see a group of us outside on the porch smoking weed. So the neighbors started getting real paranoid.
"One of the neighbors told the police we were growing weed or selling drugs out of this house. And there was a huge investigation, like a million-dollar investigation.
"They flew helicopters over, sent an entire SWAT team armed with weapons, broke down the door and searched the whole house. Thankfully nobody was in the house."
The raid reportedly occurred in March this year, during the recording of Cole's new album.
But as Elite reports, the police were left red-faced after finding nothing but an empty music studio.
"They go downstairs and all they see is a studio, and obviously they felt stupid. It's just crazy ironic because out of anybody, they picked the wrong person. J. Cole is the last person to do anything like that," he continued.
"He's out here doing extremely positive things for the community and for young artists. Because of obvious racism from the neighbors, the police were called and a raid took place."
However, Cole used the mistaken drugs bust to his advantage and took the incident as inspiration for his song 'Neighbours'.
The album's liner notes detailed that 'Neighbours' was "inspired by true events," and now we know why.
"The neighbors think I'm selling dope," goes the hook of the song.
"I can't sleep cause I'm paranoid, black in a white man territory / Cops bust in with the army guns, no evidence of the harm we done / Just a couple neighbors that assume we slang," Cole continues.
J. Cole's new album '4 Your Eyez Only' is available to download and stream right now on Apple Music.