J. Cole's Twitter Was Hacked And Made Offensive Remarks About Kim Kardashian
4 October 2016, 12:06 | Updated: 4 October 2016, 15:53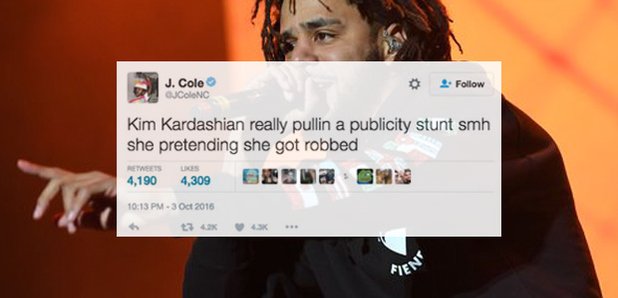 #JColePassword started trending.
J. Cole's Twitter account was hacked yesterday and the prankster decided to turn on Kim Kardashian.
Following the reality star's harrowing robbery ordeal in Paris this week, J. Cole's hacker claimed that the incident was a "publicity stunt".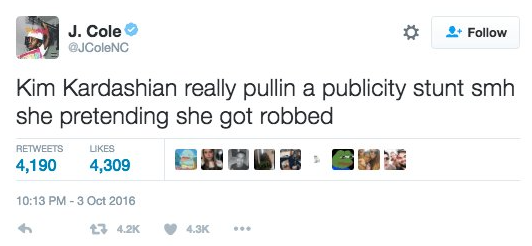 The hacker joined the long list of Twitter uses who were eager to throw abuse Kim's way.
The prankster also made expletive-ridden comments about other celebrities, including fellow musician MattyBRaps.

The rapper's 8 million Twitter followers were taken by surprise by the sudden account activity - Cole hasn't himself tweeted since early March this year.
They soon started the #JColeTwitterPassword trend, throwing around guesses of J's account details.
Doubleplatinumwithnofeatures #JColePassword

— Gee (@Lilgeeeeee) October 4, 2016
The face @JColeNC made when he found out that he was hacked #JColePassword #JColeWantsToBeSaved pic.twitter.com/LlPgoX2J3j

— gangsignsoutdawindow (@callmekookiee) October 4, 2016
#jcolepassword Kendrickbetterthanme

— Eddie Guerrero (@_irrelevnt) October 4, 2016
The hacker's tweets have since been deleted, but J. Cole is yet to comment on the incident.
The drama came shortly after J revealed that he is taking a "very long" break from performing.