Watch Jay Z Give J Cole His Original Roc-A-Fella Chain
29 January 2014, 10:13 | Updated: 29 January 2014, 10:14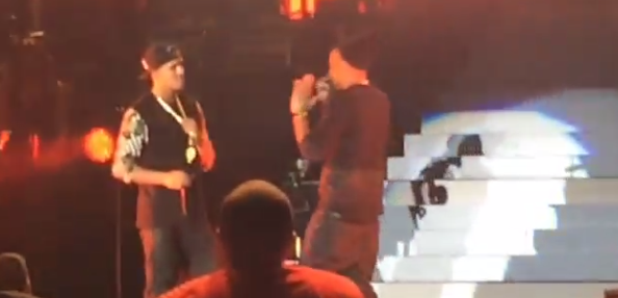 It was the birthday present to end all birthday presents.
A video has surfaced of Jay Z giving J Cole his original Roc-A-Fella chain during Cole's Madison Square Garden concert last night (January 28th 2014).
As Hov hit the stage to perform on the 'What Dreams May Come' Tour, Cole was already wearing the infamous chain, most likely on-loan. But Jay announced in front of the crowd; "that on your neck is my original Roc chain, and it's yours".
J Cole looks down in disbelief before saying; "That's all I ever really wanted".
Watch the Instagram video of Jay Z presenting J Cole with the chain below:
Yesterday also saw J Cole celebrate his 29th birthday by confirming a partnership between his label 'Dreamville' and Interscope Records - the rapper has released an 11-track mixtape called 'Revenge Of The Dreamers,' which you can stream here.