Travis Scott And Frank Ocean Respond To Rumours They Are Feuding
15 September 2018, 14:11 | Updated: 15 September 2018, 14:17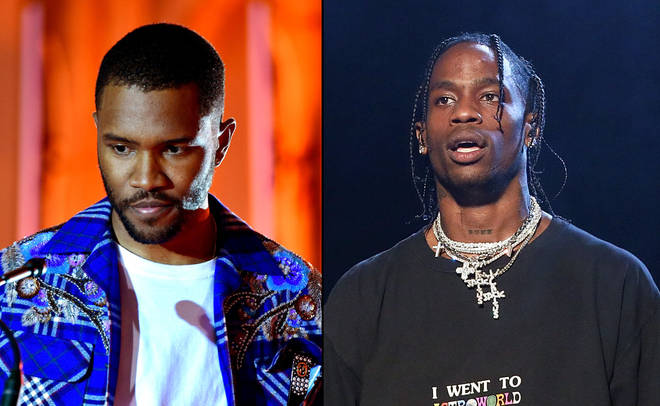 Reports alleged that the pair had issues over Frank's 'Astroworld' feature, "Carousel".
Travis Scott and Frank Ocean have squashed rumours that they were beefing over Frank's feature on Travis' Astroworld album.
The pair collaborated on "Carousel", but revelations of a cease and desist order filed by Frank had fans wondering whether the two had fallen out over his vocals on the track, as alleged by TMZ. TMZ reported that Frank was unhappy with his vocals being changed for the track, per an unnamed source.
It didn't take long for Travis and Frank to both come out and refute claims of an ongoing feud.
Travis posted a photo of some Frank Ocean merch, calling the singer "family" and "an inspiration".
Frank also took to his preferred mode of communication, posting to his tumblr that he and Travis had squashed whatever issues they had weeks ago.
Frank confirmed that he'd actually approved the vocals and that the cease and desist was about something else entirely.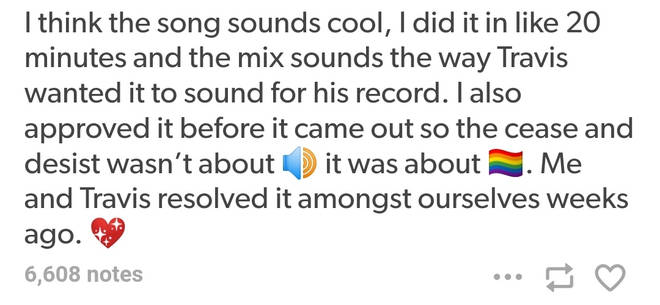 It's not immediately clear what the issue was that Frank alluded to in the post.
Frank and Travis collaborated even before Frank's feature on Astroworld. In 2017, they worked together on the track "Lens V2", which debuted on Frank's Beats 1 radio programme, Blonded.
Hear Travis and Frank's most recent collab, "Carousel" below.