Frank Ocean Just Released His 'Endless' Visual Album And Twitter Can't Cope
19 August 2016, 10:59 | Updated: 19 August 2016, 11:05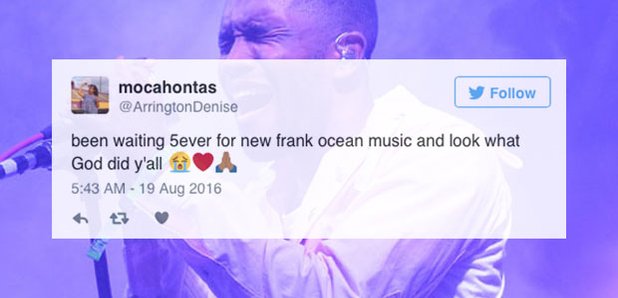 All the best reaction.
Frank Ocean has surprised fans once again by dropping a brand new visual album called 'Endless' and Twitter has gone into meltdown.
The elusive R&B singer also reportedly plans to release his long-awaited new album 'Boys Don't Cry' this weekend and fans really can't cope with all the new music.
Check out some of the best reactions below:
Some fans just cannot cope with the drama:
Thanks Frank Ocean now I can't go to sleep 'cause I have to watch you build a goddamn staircase.

— Gala Darling (@galadarling) August 19, 2016
2 minutes into #ENDLESS and Frank Ocean is already bringing me to tears. This is beautiful.

— dylan (@itsdmc) August 19, 2016
Literally almost cried listening to frank ocean endless I'm in love with him & PND

— Morgan (@fxldm_p) August 19, 2016
i feel like i'm going to pass all my exams and my skin will clear now that i've listened + watched "endless" by frank ocean

— amara. x (@thrilljedi) August 19, 2016
Frank Ocean's : Endless , surpasses all expectations possible.

— g a l e x y (@GALEXXXY) August 19, 2016
While others were more cynical:
Frank Ocean named his visual album "Endless". Yeah bitch I've been endlessly waiting for you

— Tue (@tueliketuesday) August 19, 2016
Frank ocean is so extra. He not even big enough to be doing the diva things that he does. He wanna be Beyoncé so bad.

— tink. (@_MissTink) August 19, 2016
You're all gonna overhype the Frank Ocean album just like you do with everything and have your sky-high expectations unfulfilled.

— J. Smith (@uglyfabio) August 19, 2016
Too much trolling from Frank?
I honestly don't care about this new Frank Ocean album at all yet, like I'm fully not gassed to hear it, I've been messed with too long.

— Scully (@isthatscully) August 19, 2016
I don't have time for Frank Ocean's games, lol. like none.

— Tyra Alexis (@TheTyraTales) August 19, 2016
frank ocean world class trolling since 2012

— Ben (@fullyofficial) August 19, 2016
But after soaking in the new songs, some fans were won over:
second listen has got me sobbing. #Endless #FrankOcean

— gothmama freedom (@gothmamafreedom) August 19, 2016
Frank. Ocean. Every song gets better and better. :D

— Disney Hall (@disneeyyy) August 19, 2016
update: frank ocean isn't a flop, he's a genius https://t.co/vWRVkjXRds

— greg lol (@n9viv) August 19, 2016
And there's even more to come:
Am I buzzing about this new Frank Ocean album? Am I also buzzing that there's another album this weekend? Yes, yes I am.

— Joseph Poulter (@JoeyPoulter_) August 19, 2016
Frank ocean droppin another album this weekend it's lit! #endless #boysdontcry

— DG (@dnicole__93) August 19, 2016
WOAH, WAIT A SECOND! Frank Ocean released a "visual" album, but he's releasing another one this weekend?! What??!?!?!?!?!?

— David (@artkunt) August 19, 2016
But what about all those amazing Frank Ocean memes?
but fr rip to the frank ocean memes those were the funniest

— keiry (@kerrrss) August 19, 2016
RIP Frank Ocean new album memes 2013-2016

— Christine Sydelko (@csydelko) August 19, 2016
Does this mean the frank ocean memes are over with ?

— Spot (@Its_Spoty) August 19, 2016
For now, let's just enjoy the new music!