These Frank Ocean Fans Have Completely Had It With His Trolling
5 August 2016, 09:55 | Updated: 5 August 2016, 10:08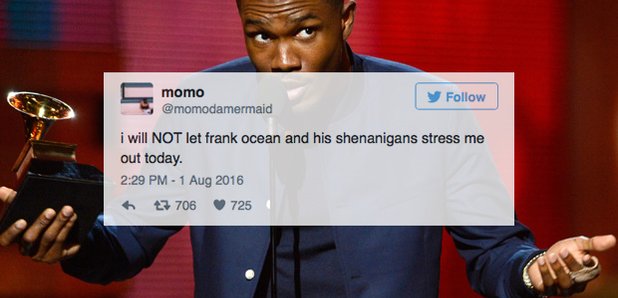 Time is ticking, Frank!
The hype surrounding Frank Ocean's imminent new album 'Boys Don't Cry' has brought about a range of emotions from his fans.
The singer initially announced the album back in July 2015 but still hasn't released any singles, a tracklist or album artwork.
And following his recent cryptic live-stream, which is now rumoured to be a looped piece of art, Twitter is freaking out over whether we can ever expect the album to drop at all.
Check out some of the best reactions below:
Some fans are just plain angry:
Good morning everyone except Frank Ocean

— Lil' Ang (@hoetivator) August 1, 2016
Man if Frank Ocean don't drop his album on Friday...

— Jack (@itsjacklmao) 2 August 2016
While others are still feeling the effects of previous false rumours:
no man has ever strung me along and hurt me like Frank Ocean has

— kannchy (@kannchy) August 1, 2016
frank ocean is the terrible boyfriend who lies 2 u repeatedly but u stay bc u luv him & u have faith smh

— ♔ (@L1LDIABLA) August 1, 2016
Frank Ocean's that pal that rings your landline to say he's almost outside yours, only for 1471 to tell you he called from his house phone.

— MIKILL PANE (@MikillPane) August 1, 2016
Some fans are simply in denial:
And others are having major trust issues:
Frank ocean is the dad that went to the grocery store and never came back

— Takudzwa (@Teelols) August 1, 2016
A live-stream but no album?:
Here's 12 Pieces of Furniture Frank Ocean Could Be Finishing Instead of an Album

— Max Mertens (@Max_Mertens) August 1, 2016
They feel hurt:
I tweet Frank Ocean jokes out of love but also a vast and endless despair.

— Matt Pearce (@mattdpearce) August 1, 2016
And played one too many times:
i will NOT let frank ocean and his shenanigans stress me out today. pic.twitter.com/sTjnMUrkpZ

— momo (@momodamermaid) August 1, 2016
But the latest album release date rumours have given fans hope:
Will 5th August finally be the big day, Frank?