38 'Blonde' Lyrics For When You Need The Perfect Instagram Caption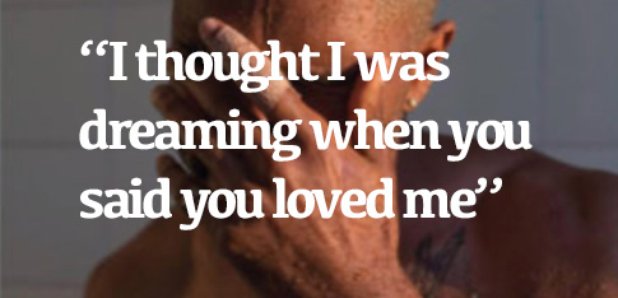 Frank has got you sorted.
Frank Ocean finally dropped his long-awaited new album 'Blonde' and from 'Nikes' to 'Pink & White', 'Futura Free' to 'Solo', its 17-tracks are complete with lyrics that will slay your Instagram for the rest of 2016 and beyond.
Below, we list some of the most note-worthy.
On your ex:
"He don't care for me but he cares for me" - 'Nikes'
"I could hate you now, its quite alright to hate me now" - 'Ivy'
"I broke your heart last week, you'll probably feel better by the weekend" - 'Ivy'
"Now and then you miss it, sounds make you cry/ some nights you dance with tears in your eyes." - 'Self Control'
"Did you call me from a séance, you are from a past life." - 'Nights'
"Shut the f*ck up I don't want your conversation." - 'Nights'
On relationships:
"We're not in love but I'll make love to you" - 'Nikes'
"I thought I was dreaming when you said you love me" - 'Ivy'
"I'm not him but I'll mean something to you" - 'Nikes'
"Wanna feel that lovin' when you come by" - 'Nights'
"I'll be the boyfriend in your wet dreams tonight" - 'Self Control'
"I will always love you how I do" - 'God Speed'
"I know that your n*gga came with you, But he ain't with you" - 'Nikes'
'You text nothing like you look' - 'Good Guy'
On life:
"Living so the last night feels like a past life" - 'Nikes'
"Sometimes I feel like I'm a god but I'm not a god" - 'Futura Free'
"Hand me a towel I'm dirty dancing by myself" - 'Solo'
"Know them boys wanna see me broke down,
Wanna see me bummed out,
Stressed out" - 'Nights'
"Ain't ran since track meet, That's the only time I ran from a n*gga" - 'Futura Free'
"Play these songs, it's therapy momma, they paying me momma" - 'Futura Free'
On being true to yourself:
"I can't relate to my peers, I'd rather live outside" - 'Siegfried'
"We only human and it's humid in these Balmains" - 'Nikes'
"I could see you're faking, If you could see my thoughts you would see our faces" - 'Ivy'
"You cut your hair but you used to live a blonde life, Wish I was there, wish we had grown up on the same advice" - 'Self Control'
"I don't trust them anyways, You can't break the law with them" - 'Nights'
"I'd rather chip my pride than lose my mind out here" - 'Siegfried'
"If I was being honest, I'd say long as I could f*ck three times a day and not skip a meal I'm good" - 'Futura Free'
On reminiscing:
"We didn't give a fuck back then, I ain't a kid no more, We'll never be those kids again" - 'Ivy'

"If you could die and come back to life, Up for air from the swimming pool, You'd kneel down to the dry land, Kiss the Earth that birthed you" - 'Pink + White'

"Summer's not as long as it used to be, Everyday counts like crazy" - 'Skyline To'

"Remember when I had that Lexus no, Our friendship don't go back that far" - 'Futura Free'

"All the things I didn't mean to say, I didn't mean to do, There were things you didn't need to say, You didn't need to" - 'Ivy'

"I will be honest, I wasn't devastated, But you could've held my hand through this, baby" - 'Close To You'

"I let go of my claim on you, it's a free world" - 'God Speed'

"They tryna find 2Pac, Don't let 'em find 2Pac, He evade the press, He escape the stress" - 'Futura Free'

"I'm sure we're taller in another dimension, You say we're smaller and not worth the mention" - 'White Ferrari'

"Want to see nirvana, but don't want to die" - 'Nights'

"It's hell on Earth and the city's on fire,

Inhale, in hell there's heaven" -

'Solo'