People Are Convinced Eminem Brought Out Rihanna At Coachella & They're Losing It
24 April 2018, 11:08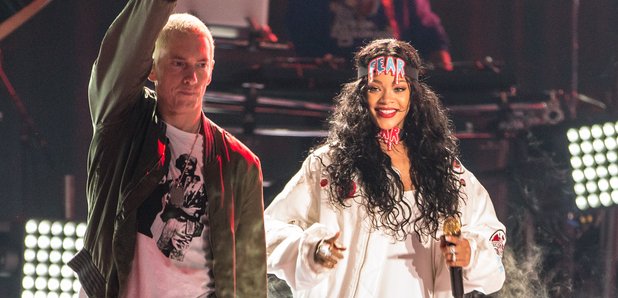 Oh, Twitter.
Eminem wrapped up the second weekend of Coachella with an explosive star-studded set, but not before leaving a wave of confusion in his wake.
During his hour-and-a-half show, Shady performed a killer combination of old classics, fan favourites and new bangers. As in his Weekend One performance, he was also joined by Dr. Dre and 50 Cent.
However, as he kicked off a performance of 'Love The Way You Lie', his 2010 chart-topping collaboration with Rihanna, online chaos ensued.
Because after seeing a female figure walk on stage to join the rapper, people at the festival were convinced the woman in person was RiRi herself.
EMINEM AND RIHANNA PERFORMED TOGETHER AND THERE'S NO VIDEO ON MY TL???

— rhyme or reason (@fentyyvibes) 23 April 2018
It appears Eminem brought out Rihanna and Dr Dre. Wanna know where I am? In the fucking tent because I didn't wanna see Em and my body sabotaged my outfit. Fuck.

— shuri darling (@ketaminedream) 23 April 2018
Me when I didn't stay for Eminem and he brought out Rihanna pic.twitter.com/CqvA3D4Na0

— Gaybee (@gabiebear) 23 April 2018
Eminem really brought out 50 cent and Dr. Dre for throwbacks, dido for Stan, and Rihanna for love the way you lie and i wasn't there to witness it?? Someone send me pictures of their dogs i need that shit rn

— milad khaladj (@miladsquad) 23 April 2018
As rumours swirled, Coachella attendees and Twitter users alike scrambled to find video footage of the pair together as people claimed to have "heard Rihanna's voice".
This was, however, not the case. Mirroring his performance last weekend, Eminem actually brought out frequent collaborator Skylar Grey to sing Rihanna's part in place of the Bajan singer.
Joining the rapper in the middle of his set, Grey also performed 'Walk On Water', standing in for E's fellow Coachella headliner Beyoncé.
I would like to point out that Rihanna and Dido did not perform with Eminem tonight. It was Skylar Grey #Coachella2018 pic.twitter.com/KZ6m69Tuvo

— Reneesha (@loveysweetykins) 23 April 2018
As previously mentioned, Eminem and 50 Cent drove the crowd wild with Fif's hit 'In Da Club', before linking up with Dr. Dre to perform 'California Love' among a few other tracks.
Coachella 2018 Forever your favorite ebony & ivoryget the strap #lecheminduroi @Eminem pic.twitter.com/xP5FV1Wv4h

— 50cent (@50cent) 23 April 2018
Crack a bottle @eminem @drdre @50cent #eminem #50cent #drdre #Coachella18 pic.twitter.com/Z0CJ7vyxKY

— EMINƎM UPDATES (@arsalanXvshady) 23 April 2018
Last week, the 'Revival' star surprised crowds by appearing to admit he's no longer good at rapping during his hotly anticipated set.
Meanwhile, Eminem celebrated ten years of sobriety over the weekend, commemorating the milestone with an Instagram post.