Eminem's New Album 'Revival' Has Leaked Online & People Have Very Mixed Opinions
14 December 2017, 11:40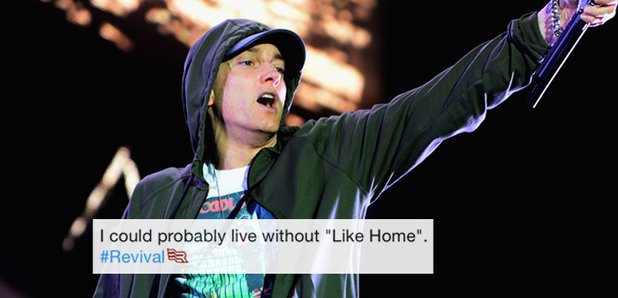 "Currently listening to the leak of Revival, I'm gonna either kms or enjoy this."
Just hours before its official release, Eminem's ninth studio album 'Revival' has leaked online.
The record is scheduled to drop tomorrow (Friday 15th December) but unfortunately for the Detroit rapper and his label, the songs have already been exposed.
Despite the leaks being removed at a very rapid pace, fans are already listening - and subsequently reviewing - the long-awaited release from Shady.
Listeners have already shared their divided opinions on the album's lead singles, the Beyoncé-assisted 'Walk On Water' and last week's 'Untouchable'.
And, judging by the latest Tweets following the recent leak, fans continue have mixed feelings on the new drop.
Have Not even finished listing to revival but it might be one of the best album I've heard. #eminem #revival #leak

— DannyBoySlim (@therealdanny729) 14 December 2017
even with some pretty decent features, eminem's new album is boring. i can't even get through it all. #Revival

— Cardi E (@eloyonair) 13 December 2017
Eminem's #Revival sounds absolutely firee

— 2.0 Soon (@DesiRapGuy) 13 December 2017
Just finished my first listen to Eminems revival album leak.

Wasn't great...

— Kieran Kaunhoven (@KaunKieran) 13 December 2017
When the leak was dropped #Eminem #Revival
Christmas came early ! pic.twitter.com/FwwTgdss5g

— Heres A Leak (@HeresTheLeak) 13 December 2017
When you get to the end of offended #Eminem #Leak #REVIVAL leak pic.twitter.com/pqifTMgDJb

— Legen (@Threalone1) 13 December 2017
As an Em fan, I'm not mad at his last two efforts. I might like #Revival more than MMLP2. My hope is this is his last Interscope effort.

— Michael Pratt (@ProjectPratt11) 14 December 2017
Meanwhile, Eminem recently revealed the star-studded tracklist for the new album - which many believe to be just one half of a double-part record.
Alongside Beyoncé, 'Revival' also boasts appearances from Ed Sheeran, P!nk, Kehlani, Alicia Keys and Skylar Grey.