Is Eminem Dropping His New Album 'Success' In January?
21 October 2016, 11:08 | Updated: 24 October 2016, 14:54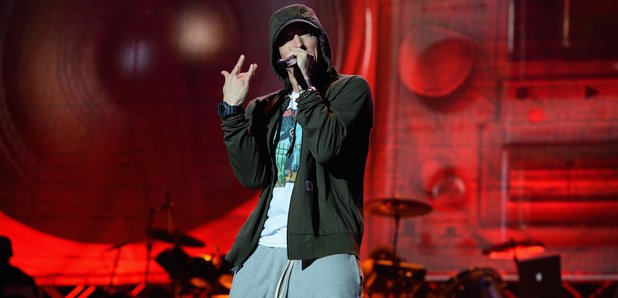 Em has allegedly been in the studio with Adele.
Eminem is dropping a new album called 'Success' in January featuring a surprise collaboration with Adele, according to reports.
The Detroit rapper, who just tore into Donald Trump in a brand new song called 'Campaign Speech', appears to be planning a 21-track album – according to leaked documents on Reddit.
Details of the secret Eminem project were shared on Reddit, showing a one-page document featuring the logos of Interscope Records, Shady Records and Aftermath Entertainment.
Check out the leaked tracklist below:
"This is It"
"Superstar"
"Imprisonment"
"Take Me Away"
"Everyday" (Feat. Chance the Rapper)
"Looking for Freedom"
"Something Has Changed" (Feat. Kid Cudi)
"Confused"
"Rain"
"Success" (Feat. Adele)
"Fighter"
"Sins of a Prayer"
"Bulletproof" (Feat. Mastein Bennett)
"Sunshine"
"Black Roses" (Feat. The Weeknd)
"Nightmare"
"Ladies and Gentleman" (Feat. Vince Staples)
"Hurts Really Bad"
"It's Hard"
"Lie Down"
"Rest"
Alleged producers on the new Eminem album include Dr. Dre, Mr. Porter, Rick Rubin, DJ Michael Keenan, DJ Premier, Symbolyc One, Just Blaze, Boi-1da, The Neptunes and The Alchemist.
Interestingly, despite the very detailed document, Reddit user Carrymarrybloody made the disclaimer: "This is leaked. It's probably fake, but I wanted to share anyway."
Eminem released his last album 'The Marshall Mathers LP 2' back in November 2015.