Is Eminem Dropping New Music This Month?
6 April 2017, 13:46 | Updated: 6 April 2017, 14:09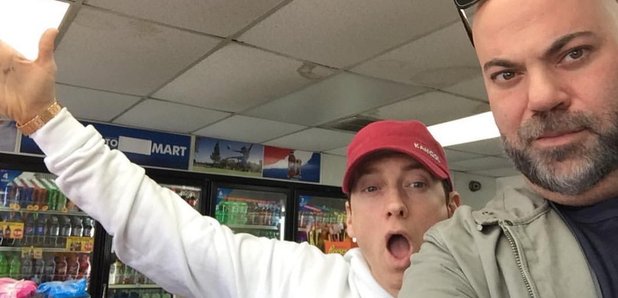 Fans think Shady is dropping cryptic clues.
Eminem has sent fans into overdrive after his manager Paul Rosenburg posted a series of pictures of the pair together on Instagram.
The Detroit native can be seen hitting up popular US convenience store 7 Eleven, with Rosenburg mysteriously captioning the snap: "It's been a long time… #7elevenseries."
While it may seem like a perfectly normal photo to some, a few eagle-eyed fans picked up on one small detail.
Slim Shady appears to have something written on the palm of his hand, which users have determined as 'April 9'.
Speculation soon followed of a potential release date for a new musical project or album.
What do you think, does Eminem really have April 9 written on his hand in the new pic? pic.twitter.com/WXntWmjU0P

— Eminem & Shady News (@ShadyFansite) April 5, 2017
Ok.. Stans!? Does that really say "April 9" or are we looking way too far in this picture? #Eminem @ConfidentSword #Stans #eminem #slimshady pic.twitter.com/qI1Kalrxkk

— Noah (@valid_nobo) April 5, 2017
FINALLY... His hand says April 9... Thanks Paul... #Eminem #Detroit #SlimShady pic.twitter.com/NPtweBNnE4

— Jason Burns (@realBURN5) April 5, 2017
guess who's back, back again, shady's back #7elevenseries pic.twitter.com/OqU0AF1RZc

— ari // eminema (@fackingshadyy) April 5, 2017
Some fans, however, aren't convinced.
Yes, that date Eminem writes on his hand, It's probably "April 9" but there's NO WAY it's the release date of his next album

— Slim Shady News (@EmShady17) April 5, 2017
This isn't the first we've heard of new material rumours surrounding Slim - reports last year suggested he was dropping an album called 'Success' in January featuring a collaboration with Adele.
However, Eminem's last official release arrived in the form of 2016's 'Campaign Speech', a savage diss track aimed at now-President Donald Trump.
The rapper also featured on Big Sean's track 'No Favours', which caused uproar amongst Women's Rights activists who demanded the pair be boycotted and arrested.
Eminem is yet to respond to the rumours.