Eminem Opened A 'Mom's Spaghetti' Pop-Up Restaurant & Turned Up To Meet His Fans
20 December 2017, 11:59 | Updated: 20 December 2017, 12:05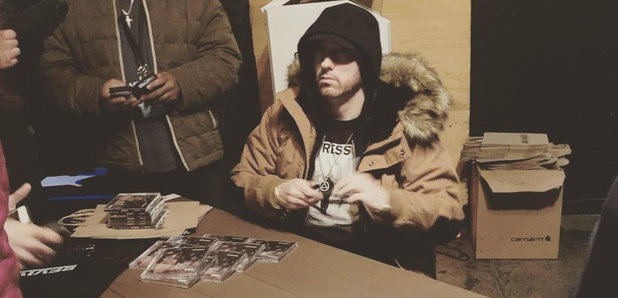 The restaurant is based on his 2002 track 'Lose Yourself'...
Eminem surprised fans over the weekend by making an appearance at a special 'Moms Spaghetti' pop-up restaurant in his native Detroit.
The Detroit rapper, who released his ninth studio album 'Revival' last Friday, was behind the pop-up – which offered fans the chance to taste a number of dishes including Spaghetti with meatballs.
The Eminem-themed restaurant was hosted at Detroit's The Shelter venue and also gave fans the chance to buy his new album 'Revival', as well as exclusive merchandise.
Lucky fans were given the chance to meet the man himself, as the ever-elusive Eminem made rare public appearance to sign copies of his album.
Check out pictures from the Detroit event below:
Eminem's new album 'Revival' received very mixed reviews from fans so far and is expecting to bring in his lowest first week sales since 1999's 'The Slimy Shady LP'.
The album features a series of guest appearances from Beyonce, Ed Sheeran, Alicia Keys, PHresher and more.
Meanwhile, the rapper recently admitted that he uses Tinder and strip clubs to meet women.