Machine Gun Kelly Responds To Eminem 'Killshot' Diss Track
15 September 2018, 12:46 | Updated: 15 September 2018, 13:04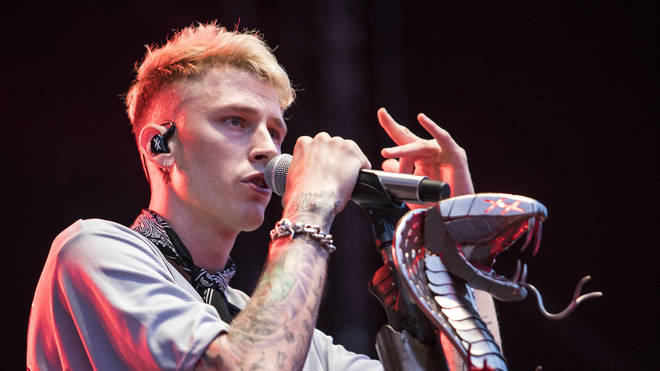 MGK didn't waste any time...
Machine Gun Kelly has responded to Eminem's brutal 'Killshot' diss track.
The rapper, who was one of the first to react to Eminem's surprise 'Kamikaze' album with his own diss track 'Rap Devil', has given his first reaction to the controversy.
Taking to Twitter, the rapper poked fun at Eminem's response, appearing to rate them as average.
"2 weeks and 3 interviews later," he wrote alongside the hashtags 'Let Shot' and 'Let's Talk About It'.
He also posted the laughing emoji, toilet emoji and trash emoji, with a picture of judges from Strictly Come Dancing holding up three 6's.
Earlier this week, Eminem claimed that his 'Kamikaze' diss track aimed at MGK, was nothing to do with a controversial tweet about his daughter Hailie.
During an interview with Sway Calloway, Em revealed that he wasn't happy with MGK's previous claims about Hip-Hop media outlets such as Shade 45.
Eminem also made a number of brutal remarks about Machine Gun Kelly in his new diss track 'Killshot'.
The Detroit rapper poked fun at MGK over his popularity, career and his public image.
It's not currently known whether Machine Gun Kelly will respond to Eminem's 'Killshot' with another diss track however he announced a new project called 'Binge'.