Joe Budden Responds To Claims That Eminem Dissed Him On 'Chloraseptic' Remix
11 January 2018, 10:34 | Updated: 11 January 2018, 10:44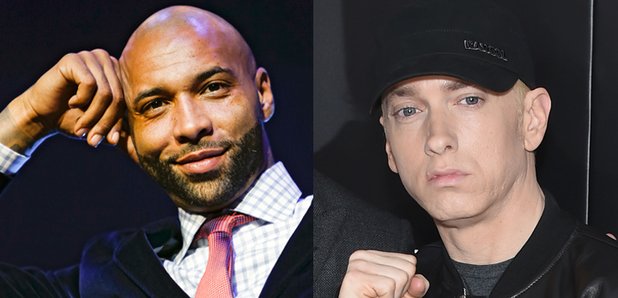 The rapper is confused.
Joe Budden has responded to reports claiming that Eminem fired shots at him on his newly released 'Chloraseptic' (Remix).
During the latest edition of his 'Joe Budden Podcast', the New Jersey native revealed that he doesn't believe Slim is dissing him on the explosive track.
"So here's my question: Why do people think Eminem is talking about me?" Budden asks his co-hosts.
Earlier this week, rappers 50 Cent and Bizarre slammed Budden for his previous commentary on Eminem's latest album, 'Revival', when he and DJ Akademiks discussed it on Complex's 'Everyday Struggle'.
However, in the new podcast episode, Budden goes on to say that he was one of the few people that defended the tracklist prior to the album's release.
The rapper also confessed that he is yet to listen to the album, which received varied reviews from critics and fans alike.
"I couldn't have trashed the album I never heard. And I was the lone person defending the tracklist. So much so, that n*ggas said, 'Uh, Joe, you d*ckridin' man. You bias. You won't say nun'," he said.
Budden later delivered praise to the Shady Records boss on his new verse, as well as 2 Chainz and Phresher who also feature on the track.
"I don't think that Em was talking to me, number one, but boy did he kill that verse," Budden states, "Goddamn, he killed that verse."
In response to 50 Cent's comments, Budden noted that the 'Power' star is coincidentally promoting his new 'Den Of Thieves' movie.
"50 Cent has zero to do with this beef, he is promoting a movie, that doesn't look bad either," he said.
Eminem is yet to respond to the rumours.