Busta Rhymes Drops New Song Feat. Eminem 'Calm Down': New Music
1 July 2014, 09:44
Let the count down to July begin.
Update
Finally, the long awaited collaboration between Eminem and Busta Rhymes has arrived. The track samples House Of Pain's 'Jump Around' as Busta spits rhymes over the beat, with Eminem coming in suggesting "Shady for President."
Listen to Busta Rhymes Feat. Eminem - 'Calm Down' below:
(Warning: This song contains strong language that some people may find offensive.)
Along with the full-length version of the song, the pair have dropped an official trailer for the song's forthcoming music video. Catch it above.
30/06/14
Ahead of the premiere of their new collaboration 'Calm Down,' due to drop tomorrow, Busta Rhymes and Eminem have teamed up to unveil the artwork for the single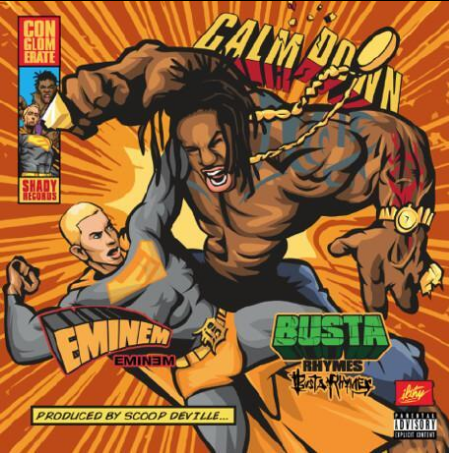 It sees Busta and Slim Shady depicted as comic book characters, with Eminem in a superman type costume, wrestling with his collaborator.
Keep your eyes peeled and ears open - the single will arrive tomorrow.
27/06/14
Busta Rhymes has taken to Twitter to announce that he has a new collaboration with Eminem coming soon.
The two rappers have hooked up for new song titled 'Calm Down' due to drop on 1st July.
IT'S OFFICIAL!!! THE CONGLOMERATE ENT. PRESENTS... BUSTA RHYMES FT. EMINEM "CALM DOWN" IS COMING JULY. 1ST pic.twitter.com/jr6v4xiLFQ

— Busta Rhymes (@BustaRhymes) June 27, 2014
Pictured in the studio together, Busta tweeted telling fans "It's official."
The song will premiere on the same day as Chris Brown, Usher and Rick Ross' recently previewed collaboration 'New Flame.'