Eminem's BET Cypher Has Become A Meme And The Internet Is Losing It
17 October 2017, 10:21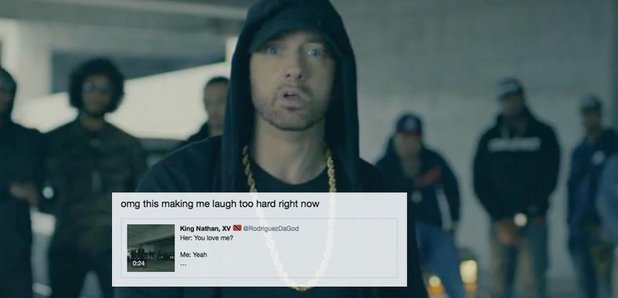 Those pregnant pauses are Twitter gold.
Eminem's iconic anti-Trump cypher has been turned into the Internet's latest viral meme.
The rapper debuted his epic diss track during the BET Hip-Hop Awards last week, with the politically-charged freestyle garnering both praise and negative critique online.
Unsurprisingly, it didn't take long for social media users to turn the viral video into a hilarious meme.
Someone has clipped all of the pregnant pauses in Eminem's rap into its own short video, and users are adding their own captions describing various awkward scenarios.
Check out some of the funniest Eminem memes below.
Her: You love me?

Me: Yeah

Her: What do you love about me?

Me: pic.twitter.com/8ILQovJDnA

— King Nathan, XV (@RodriguezDaGod) 16 October 2017
waiter: so are we all ready to order?
them: ya ill get the american burger
waiter: and what are you having?
me:
pic.twitter.com/oz8ZTIZHvo

— jaboukie young-white (@jaboukie) 16 October 2017
"Say one positive thing about yourself"
Me: pic.twitter.com/nnNkecW37c

— Not Again Ben (@NotAgainBen) 16 October 2017
Person: why do you like white men?

Me: pic.twitter.com/cumJIHbksC

— (@shayfromonlin3) 16 October 2017
Meanwhile, rumours continue to swirl regarding Eminem's hotly-anticipated new album, which is reportedly dropping in November.
The Detroit native recently featured on Pink's new album on their collaboration 'Revenge'.