Eminem Accused Of Blackface After Lord Jamar Shares Resurfaced Mask Photos
6 November 2019, 11:45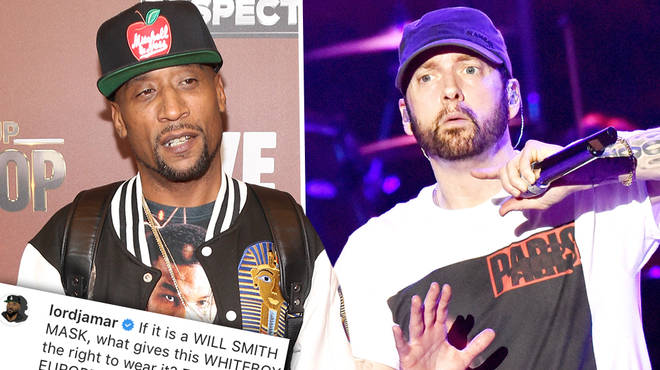 Rapper Lord Jamar has accused Eminem of wearing blackface after discovering photos of the Detroit rapper in a "Will Smith" mask.
Lord Jamar has continued his beef with Eminem after the Detroit rapper dissed him on stage during his live show last month.
On Tuesday (Nov. 5), the Brand Nubian rapper accused Eminem of wearing blackface after old photos of him have resurfaced.
The "Original Man" rapper took to Instagram to post old photos of the Shady Records CEO, who is wearing a "Will Smith mask".
Although the mask doesn't represent traditional images of Blackface, Jamar still took offence from the making his claim that Em was wearing a mask depicting the racist makeup.
The rapper posted the photos allegedly from Eminem's remote appearance at the 2000 MTV Europe Music Awards.
Jamar captioned the post "Hey @eminem please put this in context for me...I'm trying to understand why you'd be clowning in a BLACKFACE MASK backstage at the MTV AWARDS?"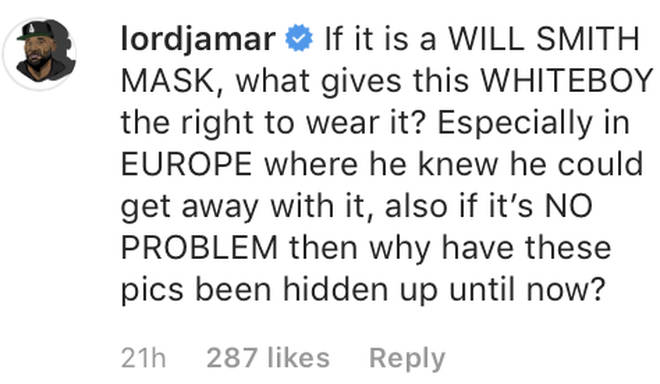 "You should come on the YANADAMEEN GODCAST so we can discuss this among other things. #weneedanswers," Lord Jamar wrote in his caption.
During the 2000 award ceremony, Eminem wasn't able to be present as he was on tour in the U.S at the time. Therefore, the rapper pre-recorded acceptance speeches in case he won.
The "Stan" rapper accepted his award for Best Album, then appeared in a second video while wearing a Will Smith mask and apologized for missing out on the show.
Jamar continued "If it is a WILL SMITH MASK, what gives this WHITEBOY the right to wear it? Especially in EUROPE where he knew he could get away with it, also if it's NO PROBLEM then why have these pics been hidden up until now?" underneath his post.
Lord Jamar and Eminem have been openly engaged in a beef since the Detroit rapper dissed Jamar on his song "Fall" off his Kamikaze album.