20 Of The Best Eminem Songs
15 June 2017, 15:14 | Updated: 15 June 2017, 15:40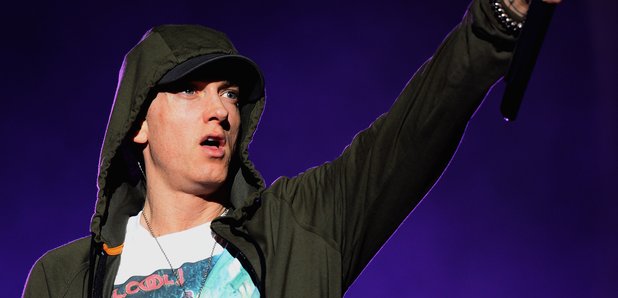 Here's our definitive list of Eminem's greatest songs, from era-defining tracks like 'Stan' and 'The Real Slim Shady' to hit collaborations with Rihanna, Dr. Dre and more.
From his humble beginnings in Michigan to becoming one of the best-selling artists of all time, Eminem is a certified Hip-Hop icon.
The rapper, real name Marshall Mathers III, has an unbeatable track record of hits spanning over two decades thanks to his unrivalled rhymes and renowned stage persona.
Up-tempo tunes like 'The Real Slim Shady' get us pumped, while thought-provoking songs like 'Stan' have us in our feelings. Eminem has got it all covered.
So it's time to press play and listen to Eminem's best songs:
Just Lose It
Kicking things off is this notoriously tongue-in-cheek track, which caused a fair bit of controversy after its release in 2004.
The Real Slim Shady
Taken from his Grammy Award-winning album 'The Marshall Mathers LP', 'The Real Slim Shady' earned Eminem his first UK number one.
Like Toy Soldiers
Eminem dropped this thought-provoking 2004 track in an attempt to calm violence between beefing rappers. The video sees doctors trying to save D12 member Bugz, who was killed five year earlier.
Mockingbird
Another deeply personal song, 'Mockingbird' delves into Eminem's relationships with his daughters, as well as the rocky relationship with his then-wife Kim.
Guilty Conscience Feat. Dr Dre
Eminem teamed up with his mentor and fellow Hip-Hop legend Dr. Dre for their 1998 hit 'Guilty Conscience'.
Stan Feat. Dido
Widely heralded as one of Eminem's greatest songs, 'Stan' features the haunting vocals of Dido alongside Shady's epic story-telling. The song soared to number one in eleven countries.
We Made You
Eminem turned to a more comedic tone in 2009, poking fun at celebrity pop culture with 'We Made You'.
Love The Way You Lie Feat. Rihanna
What a song! Eminem linked up with RiRi for the first time back in 2010 for this colossal tune, which would go on to be one of his biggest in recent years.
Not Afraid
Another modern banger, the anthemic 'Not Afraid' won Eminem a Grammy for 'Best Rap Solo Performance' in 2011.
Lose Yourself
Eminem's iconic theme to '8 Mile' has widely become one of his most well-known songs. It even won an Oscar!
The Monster
Eminem dropped this powerful collaboration with Rihanna in 2013 and it climbed to the top of the charts. The hook was actually written by singer-songwriter Bebe Rexha.
Cleanin' Out My Closet
This deeply emotional song focuses on Eminem's tumultuous relationship with his mother, Debbie Mathers.
My Name Is
Taken from his breakthrough album 'The Slim Shady LP', 'My Name Is' was co-written and produced by Dr. Dre.
The Way I Am
With it's intricate rhymes, angst-ridden message and dark sound, 'The Way I Am' remains a firm favourite with fans.
Rap God
Fast-forward to 2013, and Eminem is back with another critically acclaimed masterpiece in the form of 'Rap God'.
When I'm Gone
This hard-hitting track focuses on Eminem's sadness about his family falling apart, mainly due to his rapidly rising level of fame.
Sing For The Moment
'Sing For The Moment' sees Eminem take on a more rock-influenced sound as he samples Aerosmith's 'Dream On' throughout the track.
Beautiful
Eminem dropped the final single from 2009's 'Relapse' on a thoughtful note with this inspirational ballad.
You Don't Know Feat. 50 Cent, Cashis & Lloyd Banks
This Shady Records collaboration is a gangsta rap banger. Eminem, 50, Lloyd and Cashis all have it down!
No Love Feat. Lil Wayne
Produced by Jay Z's frequent collaborator Just Blaze, 'No Love' sees Eminem team up with Wheezy for their 2010 hit, which samples 'What Is Love' by Haddaway.