Drake And Will Ferrell Are "Handshake Coaches" In Hilarious Skit - Watch
27 June 2017, 10:23 | Updated: 27 June 2017, 10:25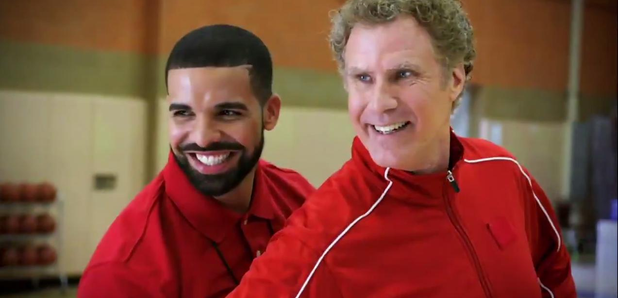 Drake kills it! Step Brothers 2, anyone?
Drake has appeared in a comedy sketch alongside Will Ferrell for last night's NBA Awards.
The sketch sees the Toronto rapper, who's dressed in some shocking khaki shorts and a red polo, and Will Ferrell giving NBA players a class on how to shake hands.
The handshake game is strong with @Drake & Will Ferrell

If you're seeing this, it's far from too late. The #NBAAwards are on TNT NOW! pic.twitter.com/yCJYGrC4hX

— NBA on TNT (@NBAonTNT) June 27, 2017
"Starting today, if you score and your handshake sucks, we will trade you!" Ferrell screams.
The pair then perform the kind of advanced handshakes Drake says fans want to see so that they know "you're really friends." This includes; The Jenga, The Gossip Queen, The Prom, Black Dad and The Obi Wan Kenobi.
Toronto Raptors star DeMar DeRozan comes in for a special roasting over his name: "De more I say it da less I like it" Drake clowns him with.
"Shouldn't we be getting back on defence?" He asks.
"De-fence? Is that your cousin, DeMar?" Drake says.
This was the first of two skits Drake appeared in for the awards. He also did a parody of the film 'Get Out' where he played two time NBA MVP Steph Curry who wants to go out and celebrate but finds his wife Ayesha has other ideas. Watch it below:
"Get Out and Celebrate." @Drake as @StephenCurry30? #NBAAwards pic.twitter.com/7KvLgVBOnq

— NBA on TNT (@NBAonTNT) June 27, 2017