Watch President Obama Rap Along To Drake's 'Jumpman'
6 January 2016, 10:48 | Updated: 6 January 2016, 10:52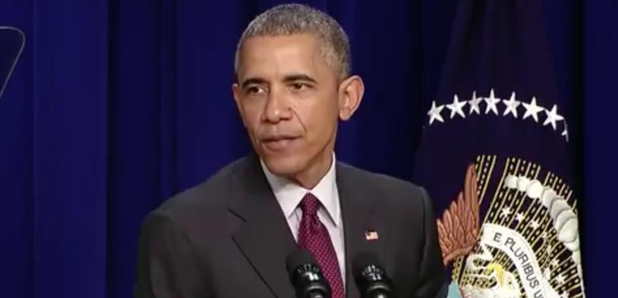 Obama shows off his rapping skills.
President Obama has continued his impressive run of Drake covers by delvering his own rendition of Drake and Future's recent single 'Jumpman'.
US basketball team Detroit Pistons have cleverly mashed up different clips of the President to create an incredible cover performance.
Watch the hilarious video below:
And now, thanks to Toronto's own @Drake, a message from President @BarackObama ... RT #NBAVote Andre Drummond https://t.co/5s0VHNI0YL

— Detroit Pistons (@DetroitPistons) January 5, 2016
The clip was actually made to encourage fans to vote for one of their players, Andre Drummond, for the upcoming All-Star Game - with the team switching "Jumpman" with "Drummond".
This isn't the first time the Pistons have used rap stars to encourage their fans.
Before the season began, they got Detroit natives Eminem and Big Sean to try and create viral videos for the team.
is sweaty, panels weak, regulation sized & heavy. There's vomit on its leather already ... #TheLongestOop @Eminem https://t.co/8OGzvQBhT8

— Detroit Pistons (@DetroitPistons) October 26, 2015
When it comes to Coney dogs, the ball knows @BigSean plays no games. #TheLongestOop https://t.co/x0eolMpP9n https://t.co/EO4PaYBC5I

— Detroit Pistons (@DetroitPistons) October 22, 2015
Meanwhile, President Obama has also covered Drake's 'Hotline Bling' and The Weeknd's 'Can't Feel My Face', courtesy of viral video maker BaracksDubs.