Drake Showed Up To A Section Boyz Show And Twitter Went Crazy
25 February 2016, 12:48 | Updated: 25 February 2016, 12:56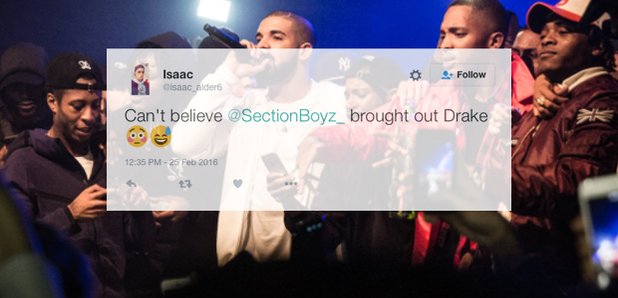 Twitter has a lot to say about Drake & Skepta at the Section Boyz gig.
Following his racy performance of 'Work' alongside Rihanna, everyone expected Drake to be a swanky BRITs aftershow party.
So the biggest surprise of the night came when Drizzy showed up at the Section Boyz London gig - and Twitter went mental!
Check out some of the best reaction below:
Bruv, imagine paying for section boyz then getting Skepta and Drake also.. Consumer Surplus in abundance!

— mikes (@MiikeyLemoru) February 24, 2016
imagine paying £15 to see section boyz, drake and skepta all in one night safeee

— C' (@Connor_LDN) February 24, 2016
Drake is on stage with Section Boyz...wtf is going on looool mental.

— Kane Chattey (@KaneChattey) February 24, 2016
The section boyz are with drake pic.twitter.com/vwVKwrtLY6

— prettiest. (@Constant_Pree) February 24, 2016

Naaa drake came out at section Boyz

— Finchyy (@TomFinch__) February 24, 2016

So @Drake can come all the way from USA and get on stage with Section Boyz but Brits can't bring out anyone from London

— Gyang Photography (@SamGyangPhotos) February 24, 2016
Drake just came out at Section Boyz show and I turned down the chance to go. pic.twitter.com/FlEUPqe37B

— SAQUIB (@saquibb95) February 24, 2016
YO @Drake just turned up to @SectionBoyz_ WORDS FAIL pic.twitter.com/DMqw4XJgxw

— E M M A (@shutupimdancing) February 24, 2016
Drake also claimed last night to have signed to Skepta's Label Boy Better Know.
Could Drake be an official Roadman now?