Drake's Twitter Account Hacked, Person Hilariously Plugs Their Snapchat
7 June 2016, 11:14 | Updated: 7 June 2016, 11:18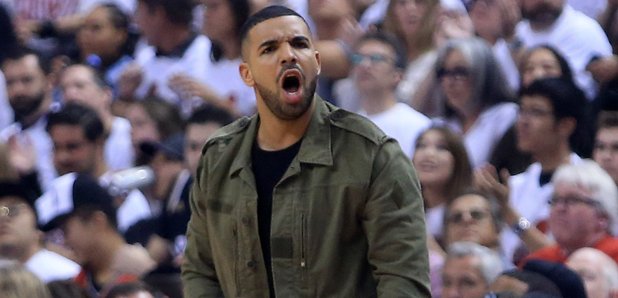 Drizzy's account got hijacked.
Drake's Twitter account was hacked by someone named "@2aiden3" in a recent spree of celebrity social media attacks.
However instead of exposing Drizzy's DMs or posting any hateful messages, the hacker decided to plug his own Snapchat account.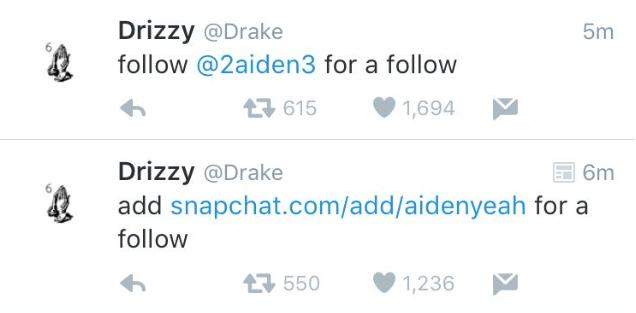 According to Gizmondo, the hacker was easily able to take over Drake's Twitter account because he used the same password he used for his Myspace account.
"Could prob get into some of his other stuff. But I'm done," @2aiden3 told the publication.
A number of other celebrity Twitter accounts were hacked over the weekend including Katy Perry, Bon Iver, Tame Impala, Keith Richards and Tenacious D.
Very sorry, everyone. We were hacked. Trying to fix the account now. Stand by. @twitter @Support

— Bon Iver (@boniver) June 5, 2016
Earlier today Keith's Twitter account was hacked along with other verified accounts. The hateful tweets that were posted have been removed.

— Keith Richards (@officialKeef) June 5, 2016
WE had our Twitter account hacked. We can assure you that Jack is ALIVE and WELL and that this was a sick "prank".

— Tenacious D (@RealTenaciousD) June 5, 2016
Meanwhile, Drake recently released a new freestyle called '4PM In Calabasas'.
The 'Views' rapper is rumoured to be taking shots at Puff Daddy among others on the hard-hitting track.
Coincidentally, there was also a huge fire which raged through Calabasas around 4PM.