Drake Stops Comedian Live On Stage For Doing A Bad Drake Impression
8 January 2015, 11:58 | Updated: 9 January 2015, 12:37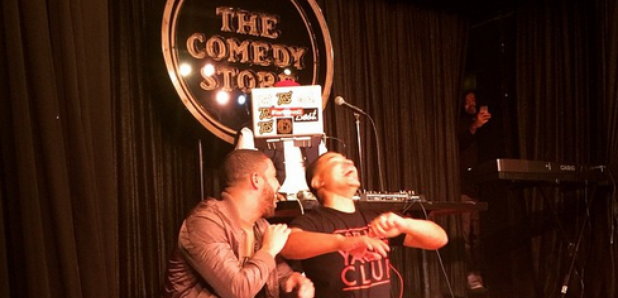 Those times when you make fun of Drizzy... And Drizzy's in the audience.
One comedian had a surprise last night when he was stopped mid-show and told that he was doing a poor 'Drake impression' - by Drake himself!
Drizzy took to the stage during comedian Red Grant's show at The Comedy Store in Hollywood when he wasn't happy with the impersonation the comedian did of Drake dancing to '6 God.'
(Warning: These videos contain strong language that some people may find offensive.)
"What the f**k kind of impression of me is that?" Drake asked in front of the audience. "Who is that s**t? That s**t is like a Omarian, Chris Brown together s**t. That's not me man."
There weren't any hard feelings though, things were kept light-hearted as the two ended up having a dance to Drizzy's '0 To 100' together.
We might only be a week in but Drake is already planning big things for the year ahead. Not only is he releasing his highly anticipated new album 'Views From The 6,' but yesterday he was officially announced as a headliner at 2015's Coachella festival.