Drake Shot An Airball And The World Can't Stop Laughing
21 October 2014, 10:46 | Updated: 21 October 2014, 10:55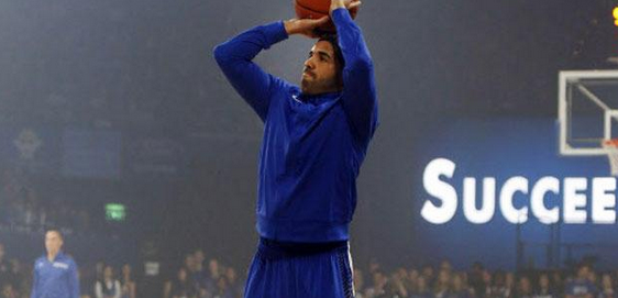 He shoots, he... No, wait.
Drake was invited to Kentucky University on the weekend and dressed head to toe in their bright blue kit, was asked to take part in the warm up with the Wildcats team.
It didn't take long for everyone to realise that the '0 To 100' rapper should stick to his day job, because Drake shot an airball and chances are that no one will ever let him forget it.
Watch Drake shoot an airball below:
The internet reacted exactly how you would expect.
Drake looking like he's about to drop the hottest airball of 2014 pic.twitter.com/5NY2q6mna3

— Terez Owens (@TerezOwens) October 21, 2014
Drake using the old "most focused guy in the room" trick so that Coach Cal doesn't go in on him about the airball. pic.twitter.com/NJcOL93k28

— Rock 'Em Apparel (@RockEmApparel) October 19, 2014
The Drake memes are back. pic.twitter.com/oVl1AyDTGE

— Word On Road (@WordOnRd) October 18, 2014
Is wasn't as bad as 50 Cent's first pitch though was it?