Rumours Of Drake and Serena Williams Engagement Sparks Twitter Frenzy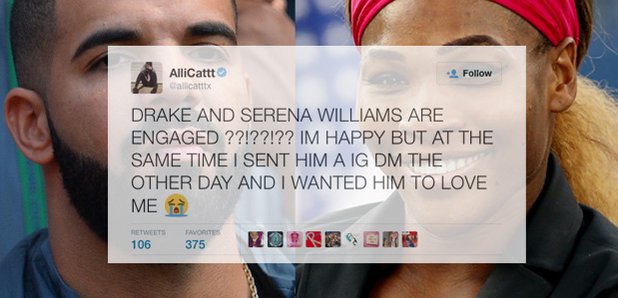 Did Drake and Serena Williams get engaged?
Drake and Serena Williams have been teasing their possible relationship for months, after being spotted kissing on many occasions and dropping hints on Instagram.
However after OK Magazine recently dropped a huge hint that the pair are now engaged, social media freaked out.
There are those who simply refuse to accept the news:
DRAKE AND SERENA WILLIAMS ARE ENGAGED ??!??!?? IM HAPPY BUT AT THE SAME TIME I SENT HIM A IG DM THE OTHER DAY AND I WANTED HIM TO LOVE ME

— AlliCattt (@allicatttx) October 8, 2015
All the women read that Drake and Serena headline like pic.twitter.com/bviSh6LUbm

— ChampagnePetty (@__Dutch) October 8, 2015
I refuse to believe Serena and Drake are engaged. Refuse.

— Trashley. (@KingBeysQueen) October 8, 2015
While others just want the best for Drizzy:
If Drake and Serena got engaged , I'd be okay with . Be thinking he gone end up with a stripper . Lol

— k . (@ohkaaae) October 9, 2015
Some people are already thinking about a possible Drizzy-Serena family:
While others are feeling a bit jelous:
But what if the rumours are false?!
Congrats to Drake and Serena on the engagement rumor. U guys pulled it off! Noone even knew the rumor was coming.

— Fanzola (@pumafanzola) October 9, 2015
Most people just don't know what to think:
Idk how I feel about drake and serena getting married

— Triana Cavazos (@Trianaa1313) October 8, 2015
Wait, WHAT ???? Serena and Drake got engaged ??? Holy moly ... That is ... I ... don't ... actually know.

— Thomas Mouquet (@LaziestDudeEver) October 8, 2015
Don't know how to feel about drake and serena potentially being engaged pic.twitter.com/sh7ehbgWWk

— plain jane doe. (@creoleeprincess) October 8, 2015
Meanwhile Drake's camp have denied it all.