Drake And Rihanna Made A Cancer Patient's Wish Come True With Surprise Visit
21 March 2016, 10:49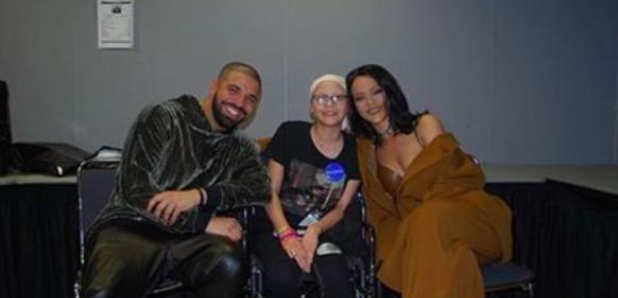 Watch Drake post a snapchat with Megan, as a part of the Make-A-Wish Foundation.
Whilst in Miami on Rihanna's 'ANTI World Tour', Drake and Rihanna took the time to pay a special visit to Megan, a young girl who sadly has cancer, as a part of the Make-A-Wish Foundation.
Photos posted on Instagram show both the singers hanging out with Megan at hospital.
Megan, who is a huge Drake fan, posted a video of herself and Drizzy captioning it;
"BEST DAY OF MY LIFE!, I MET THE LOML (Love of my life). He was so sweet & down to earth. Gave me and my family some OVO clothing. BEST DAY EVER. NO LIE. @champagnepapi LOVE YOU!"
In the video Drake says this is, "Best Snapchat I've ever done before" and then "It's all love" before giving Megan a kiss on the cheek.
See the pictures of them together below;
Rihanna and Drake recently teamed up to shoot their steamy 'Work' video and went on to give a very intimate performance of the song on Rih's 'ANTI World Tour.
While we all wait for next month (April) for Drake's 'View From The 6' to be released. Posters of the album have been seen round all of Drake's home, Toronto.