Is Drake Preparing To Battle Eminem?
4 August 2016, 09:32 | Updated: 4 August 2016, 09:42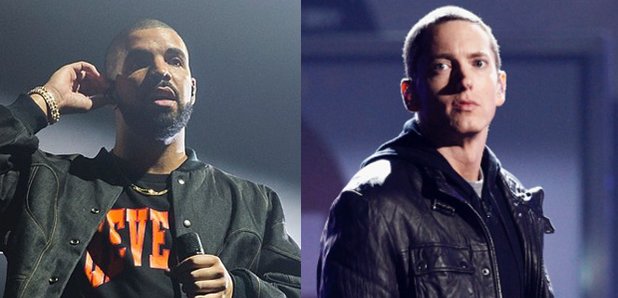 Drizzy is ready for Eminem.
Drake has revealed that he is ready to take on Eminem in a rap battle, according to reports.
The 'Views' rapper, who is currently involved in a rap feud with Em's artist Joe Budden, allegedly told Hot 97's Ebro Darden that he is ready to fire shots at the legendary rapper if necessary.
Speaking on Hot 97, Ebro revealed the recent conversation he had with Drake about the situation.
"I told Drake I heard the rumour was that Eminem was gonna gear up to come after him," he said.
"And [Drake] laughed, and he said, 'That's not gonna happen. He'll never do that. And if he did I got something for him, too."
Listen to the clip below:
Ebro speaks on his recent convo with Drake about Joe Budden & if Eminem were to diss him pic.twitter.com/BFNMOULkWs

— ITSBIZKIT (@itsbizkit) August 3, 2016
There is currently no confirmation about whether Eminem is planning a diss track for Drizzy.
However if he does, fans will expect Em to recreate the vicious diss tracks he aimed at Mariah Carey, Ray Benzino, Ja Rule and more in the past.
Eminem famously featured on Drake's 2007 single 'Forever' and performed the track alongside Drizzy and Lil Wayne at the 52nd Annual Grammy Awards.