Drake Performs With His Dad During 'Would You Like A Tour?' Tour
13 December 2013, 08:11 | Updated: 13 December 2013, 08:18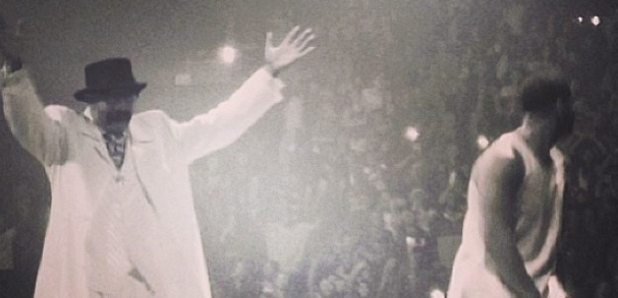 Watch Drizzy team up with his dad as the two perform 'Worst Behaviour' together
Just weeks after Drake's dad confirmed that he was working on a collaborative track with his son, the two have performed together during the St Louis stop of Drake's 'Would You Like A Tour?' tour.
His father, Dennis Graham, joined the rapper during hit song 'Worst Behaviour,' working his way around the stage whilst donning an all white coat to match his 27-year-old son's trousers and tank top.
A lucky fan in the crowd managed to capture the special moment on his phone, sharing the video on Instagram.
It's not the first time Drake's ol' pops has turned up in his career – you can also find him in the official video for 'Worst Behavior'.
But it's not always been happy days - the two have had a turbulent relationship in the past ,with Drizzy referencing Dennis in his song 'Look What You've Done,' saying "And you tell me I'm just like my father, my one button, you push it".
Although Drake's busy in tour, don't think that that's it for him for the rest of the year. The 'Hold On' singer has recently revealed that we can expect five more songs from him before we welcome in 2014.