Drake Just Paid For Every Customers Shopping In A Grocery Store & Fans Freaked Out
7 February 2018, 10:31 | Updated: 7 February 2018, 10:52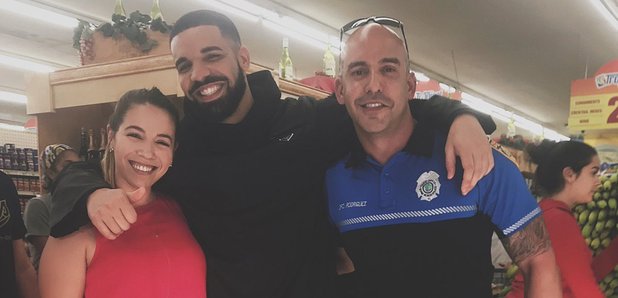 The rapper reportedly spent around $50,000.
Just days after donating $75,000 during the filming of his 'God's Plan' music video, it appears there's no stopping Drake's charitable mood.
The Canadian rapper gave the Miami Senior High School $25,000 and OVO-designed school uniforms, before giving a University of Miami student a whopping $50,000 towards her tuition on Monday.
Just 24 hours later, Drizzy treated an entire supermarket full of customers to their grocery shop, encouraging them to full their carts before paying for every single item.
According to E!, the rapper entered Miami's Sabor Tropical Supermarket at around 4pm and announced through a megaphone that he'd be paying of everyone's shopping items.
Drake reportedly splashed out a total of $50,000 on the groceries during his good deed, which was rumoured to be as part of his upcoming music video for 'God's Plan'.
"No one knew he was coming at all, we just came to do groceries. Cameras were being set up so we were all wondering what was to happen." recalled Guille Deza, one of Drake's lucky customers.
Thx for showing Miami Beach some love @Drake! #GodsPlan pic.twitter.com/tvOS7MkYkc

— Ernesto Rodriguez (@ERodriguez782) 6 February 2018
@Drake he bought everyone that was in the supermarket their groceries for them. A true role model. pic.twitter.com/cUKGCstYfZ

— that riddim girl (@riddimgirlmarf) 6 February 2018
When u find out drake was at the supermarket at the corner or your house and you were just taking a nap

— Erika (@Soledad_Erikaa) 6 February 2018
My aunt met drake today at the supermarket on 71..... he bought everybody groceries. THE DAY I DONT GO SEE HER HES THERE. FML

— Pau (@Mpauliiiix3) 7 February 2018
Meanwhile, 'God's Plan' has already topped the Billboard Hot 100 chart after breaking Spotify and Apple Music's single-day streaming record following its release.
The 'More Life' star also earned himself his 70th Top 40 Hit on the Hot 100 this week, thanks to his feature on Migos' 'Walk It Talk It'.