Drake Gets Shoved By Basketball Player, The Internet Calls Him A "Groupie"
12 February 2015, 22:16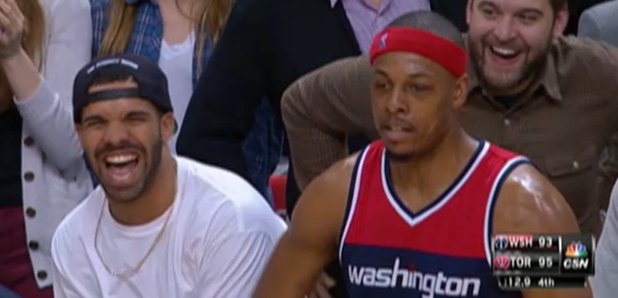 This is amazing.
As the Global Ambassador for the Toronto Raptors, it goes without saying that Drake is a major basketball fan. But the rapper got a little too up close and personal with the action during the team's game against the Washington Wizards this week.
Drake was filmed joking around with Wizards player Paul Pierce at the side of the court, but with the clock ticking down Pierce wasn't too interested in interacting with the rapper and appeared to push him away.
Watch what happened below:
While Drake seemed to find the incident very amusing, her didn't find it as funny as the rest of the internet, who said the rapper should be "banned" from courtside, while others compared him to a basketball "groupie".
Drake is a full blown basketball wife pic.twitter.com/arcNexXUwk

— Kevin Ahmadi (@rayze1) February 12, 2015
Drake is such a groupie!! Dude doesn't know how to act when he around basketball players

— Donnie B (@ImDonnieB) February 12, 2015
drake should just be banned from basketball games

— jordan (@j_feldkamp) February 12, 2015
Earlier this week Drake released a new short film, which included footage of the rapper when he was growing up.