Drake Is Opening A New Restaurant In Toronto & The Launch Party Looked Lit
11 January 2018, 11:38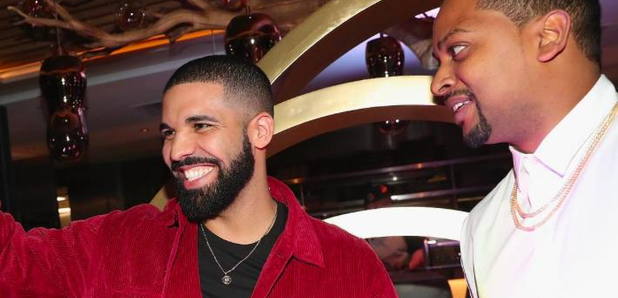 NBA stars and musicians rallied in support of Driz.
It's official - Drake is opening a new restaurant in Toronto.
After fans spotted the familiar OVO logo pop up this summer along the city's Yonge Street, rumours have been buzzing surrounding Drizzy's latest venture.
Speculation was proved correct on Tuesday night when Drake and his business partner OVO Chubbs hosted the soft launch of Pick 6ix, their new eatery at 33 Yonge St.
CTV News reports that while the restaurant isn't officially open yet, Drizzy did hold a pre-opening party, sponsored by Remy Martin, in honour of NBA star Dwyane Wade's birthday.
Hosted by Wade's Cleveland Cavaliers teammate Lebron James, the opulent bash was also attended by Drake-affiliated musicians including Baka Not Nice and Future The Prince.
Pick 6ix takes over what was formerly Houston's Bar and Grill and features the iconic black-and-gold aesthetic of Drake's OVO label, with marble countertops, a gold-lined bar, striking wood paneling and plush velvet furniture.
"So proud of you and proud to be in business with you," Drake wrote on Instagram following the launch.
"My brother @chubbsview congratulations on our new stunning venture @pick6ixto […] I hope the entire city gets a chance to enjoy this beautiful establishment."
Reports suggest that the menu will feature sushi, while famous Montreal chef Antonio Park will be heading up the kitchen after he added Pick 6ix as one of the restaurants on his Twitter bio.
A representative for Drake has not announced a grand opening date, but will release more details in the upcoming days.