One Of Drake's Salty Old Tweets Has Been Turned Into A Hilarious Meme
27 July 2018, 13:33 | Updated: 27 July 2018, 15:04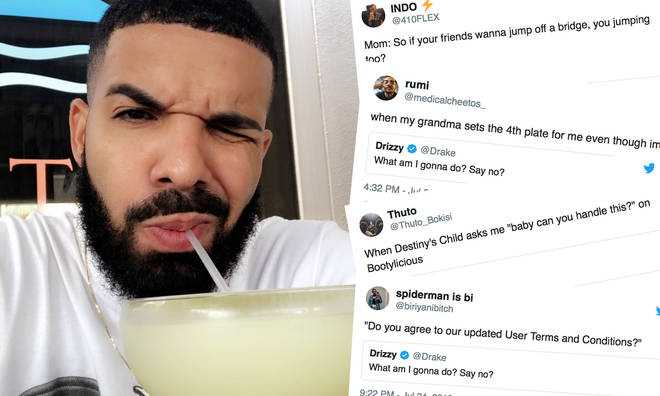 This is gold.
Back in 2012, Drake sent out a cryptic tweet. It reads, "What am I gonna do? Say no?"
Fast forward to 2018, and it's become a viral meme after one girl quote-tweeted it with a situation that applied to her own life, prompting others to do the same.
People are relating it to everything from food, awkward situations, helping people (or not in some cases), TV spoilers and more - and it's brilliant.
Check out the funniest memes below.
This isn't the first time Drake has been at the centre of a viral me in recent months. Following the release of his album 'Scorpion', one of the songs from the record's B-side has taken over the charts - and the Internet.
The track 'In My Feelings' has sparked a worldwide dance craze - also known as "#DoTheShiggy", it's inspired some of the best memes and videos of the year so far, with celebrities including Will Smith, Ciara, DJ Khaled and Drake himself getting involved in the action.