This Man Getting Hype At Drake's Show Is Ultimate Fan Goals
24 August 2016, 10:36 | Updated: 24 August 2016, 10:40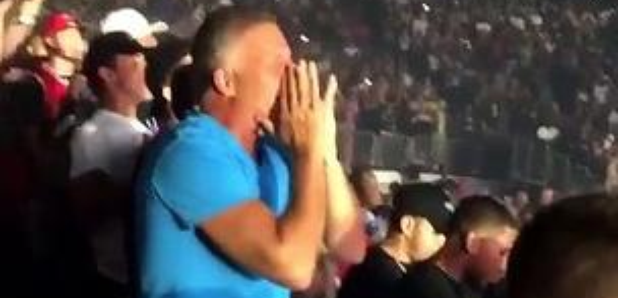 Is this Drake's biggest fan?
Drake's recent show in Philadelphia made headlines for the way he reignited his long-running feud with Meek Mill.
He also brought out surprise guest Lil Wayne, who performed some of his biggest hits.
However what some people may have missed is a man at the show proving his is probably Drake's biggest fan.
A viral video is currently circulating the Internet showing a guy getting fully hyped up during a performance of Drizzy's 2010 classic 'Over'.
Watch below:

Fans on Twitter have since agreed that the man is ultimate fan goals.
Check out some of the best reactions below:
@WordOnRd @JakobBrown3 us when we're 50+

— Papi (@bjonezy_) August 22, 2016
@karlfacee @WordOnRd @properkarls hahahah that's gonna be me af

— Liz (@_LovelyLizzie) August 22, 2016
@WordOnRd @GabeAAquino duuude this is totally going to be me when i'm old

— doug dimmadome (@HenryK_24) August 23, 2016
@WordOnRd @ivey_needham this was me at the concert. No joke

— merritt neil (@merrittshayne_) August 22, 2016
@WordOnRd @rdtrain27 That was us last month, we showed all those prepubescent teenagers how to get down with some Drizzy

— Arash Khalili (@itsA2theRash) August 23, 2016