Drake, Nicki Minaj And Lil Wayne Perform At Summer Jam
2 June 2014, 09:55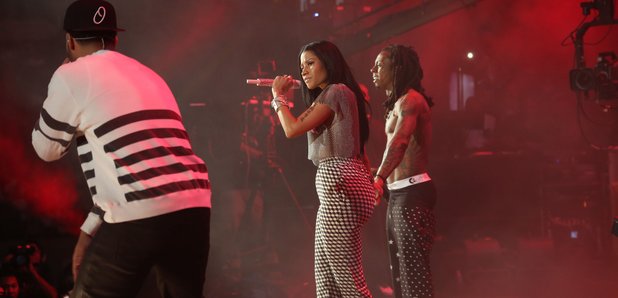 Young Money unite.
After kicking off her headline performance at New Jersey's 'Summer Jam' last night (1st June) Nicki Minaj was joined on the stage by her Young Money label-mates Drake and Lil Wayne.
Watch Nicki Minaj, Drake and Lil' Wayne perform below:
(Warning: These videos contain language that some people may find offensive.)
Nicki performed her new single 'Pills N Potions' as well as some of her other latest tracks before declaring to the crowd that she was done with Drizzy.
"Drake, I use to love you" Nicki announced, but fans soon realised it was all an act as Drizzy's 'Worst Behaviour' instrumental kicked in and the Toronto rapper joined her on the stage.
Nicki wrapped her legs around Drake as he picked her up towards the end of their performance together, Rihanna was watching on from the crowd.
Later on a masked person joined the pair on stage, and guess who was underneath? Lil' Wayne, of course.