You Need To Hear This Snippet Of Drake & Quavo's Upcoming Collaboration
27 October 2017, 11:30 | Updated: 27 October 2017, 11:37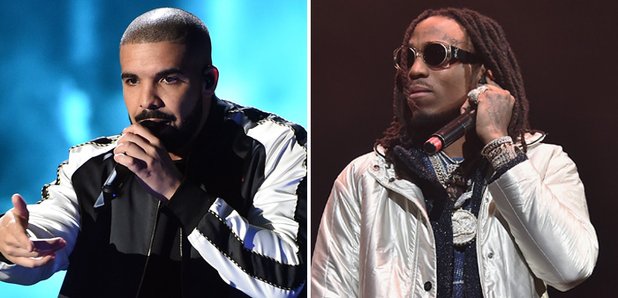 Prediction: this will be FIRE.
Drake fans, listen up - a collaboration between the 'Blem' hitmaker and Migos' Quavo has been teased and it's sounding epic.
A snippet of the unheard track was reportedly recorded during Drake's 're-Bar Mitzvah' birthday party last week by a guest.
The unmistakeable voice of October's Very Own can be heard trading flows with Quavo over a trap-infused beat.
Listen to the snippet below:
The title and release date of the track remain unknown, but assumptions are widely being made that it will feature on Migos' upcoming album, 'Culture 2'.
Quavo previously stated that he had been working with various artists - including his 'Portland' collaborator - on the hotly-anticipated project.
"We got a lot of records. We got records with Ty Dolla $ign, records with Big Sean, records with Drake, records with Travis...we gon' keep it going," Quavo said.
Drake is yet to comment on the reports.
Meanwhile, the Toronto native celebrated his 31st birthday in style last week - in addition to his re-Bar Mitzvah bash, the rapper held a lavish Andy Warhol-themed party.