US Drake Fans Confused By 'More Life' British Features & Roadman Slang
20 March 2017, 11:16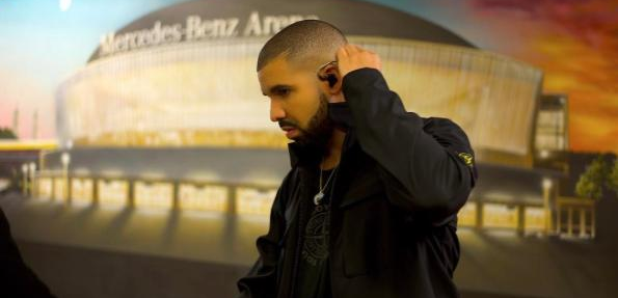 "What is a Giggs?"
Some of Drake's US fan base have admitted that they don't understand the British-ness on his new playlist project 'More Life'.
The Canadian rapper, who released the project on Saturday, decided to include lots of British artists on the playlist including Skepta, Giggs, Sampha and more.
Drizzy has made no secret of his love for the UK and has reflected its influence in songs such as 'Gyalchester' and 'No Long Talk'.
Some people have shown their appreciation for Drake's new musical direction.
.@Drake being knighted by the Queen for services to the British Music Industry #morelife pic.twitter.com/i0o9CZyGcU

— Mark Ronson (@MarkRonson) March 19, 2017
Gotta love how Drake unites great artists across black music diaspora - Black coffee, Jorja, Giggs.. Rated for exploring & giving platform

— Riz Ahmed (@rizmc) March 19, 2017

However some US fans are not impressed.
If drake says "ting" one more time im gonna flip, we get you have English friends Aubrey

— Kyz (@Kyzoooo) March 19, 2017
Drake made More Life worse by putting those trash ass London rappers on. How you gonna rap with that accent

"Oh Cheerio, boys we trappin"

— Ethio Trump (@charcoal_stick) March 19, 2017
I don't wanna sit through Drake pretending he was born and grew up in London so More Life gets a pass from me.

— jme russell (@_jjjjamie) March 19, 2017
Lol why is Drake rapping with a weird London accent in More Life

— Chantal ♡ (@chantal_adeen) March 19, 2017
Drake forcing this London roadman persona is corny as fuck on More Life.

— FC (@KingFluffy8) March 19, 2017

Some fans are even confused about some of the British features, including Giggs.
Drake really gave this rapper Giggs two features on More Life but we couldn't get one OVOXO collab?

— ☆ (@OfficialTabitha) March 20, 2017
who is Giggs wtf

— XXXPepe (@_chillfeel) March 18, 2017
Who tf is this Giggs person drake let on more life. 2/10

— ab'bae $ (@_acsodope) March 20, 2017
Wtf is a Giggs? & how much did he have to pay Drake just to ruin every song he got put on in More life?

— Chaining Tatum (@SincerelyJuanye) March 20, 2017

Which caused an inevitable backlash from British fans trying to protect their homegrown artists.
Drake isn't starting the careers of these English Grime MCs. Giggs, Skepta and all of BBK have been creating sounds for years. Jus' kno'.

— Maxwell R. Denari (@MaxDenari) March 20, 2017
Dear Americans,

There is a reason why Drake wants to bring OVO Fest to London and not anyone of your States or cities.

More Life,

LDN

— (@MrMeeds) March 20, 2017

But overall people appear to love 'More Life'.
More Life is the greatest thing since take care #morelife #drake #dead

— Rachela Cavallo (@rachelafellini) March 20, 2017
Drake never dissapoints. #Morelife

— Miss Reigns (@Maurawendy) March 20, 2017
ok I don't fw drake but more life is pretty

— ally (@allymancinixo) March 20, 2017
might be too early to be stating this but the more I play More Life, the more it sounds like Drake's best album.

— Young Yehowa (@deezydothis) March 20, 2017