Madonna Kissed Drake During His Coachella Performance And Nothing Will Ever Be The Same
13 April 2015, 09:22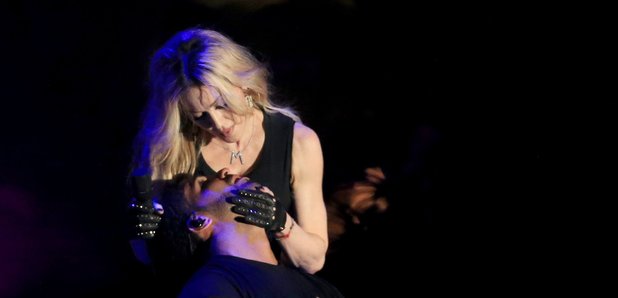 Watch the incredibly awkward moment.
As Drake took to the Coachella stage last night (12th April) for his headlining set, no one expected things to end as they did.
He was joined by surprise guest Madonna, who performed three tracks as Drizzy took a backseat on the stage.
But towards the end of her final song, as Drake made his way back to a seat centre stage, Madonna grabbed his chin, tilted his head backwards and planted a full blown kiss on him.
As the 56-year-old came up for air she announced to the crowd; "B*tch I'm Madonna," before exciting the stage. Meanwhile, the look on Drizzy's face said it all.
Watch the shocking moment below:
As the world watched on in disbelief at what just happened, social media lit up with a pretty unanimous response to the situation.
When her dentures fall into your mouth when you make out with her! #Coachella @Drake #OVO pic.twitter.com/dLiZHiZuk5

— Peter Kash (@PeterKash) April 13, 2015
Drake later on tonight. pic.twitter.com/GtnE8ZojO0

— denzel. (@DenzelAy) April 13, 2015
"@childishdevnito: Will Drake ever sit in a chair again? pic.twitter.com/Jx1C8jQw6u" fingers crossed

— kath (@xolovekath) April 13, 2015
drake probably traumatized i can't breathe

— erykah. ♔ (@asvpstratford) April 13, 2015
April 13, 2015