What Does Drake Know About Lil Wayne's New Album 'Carter V?'
10 February 2014, 16:32 | Updated: 10 February 2014, 16:35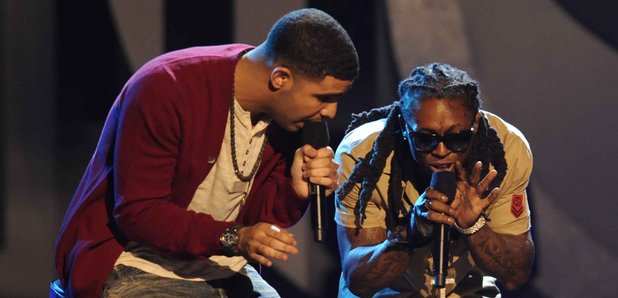 Drizzy knows something about Lil Wayne's long overdue album that we don't.
Drake knows something we don't know, and we're feeling pretty left out.
The 'Too Much' rapper doesn't post to his 14 million followers often, so when he does we know to sit up straight and pay attention.
Earlier today a cryptic tweet went out that simply read 'Carter V.'
CARTER V

— Drizzy (@Drake) February 10, 2014
Could Drake be working on the Lil Wayne album that's been in the works for over a year now? Or is he just letting us know it's on the way? Our guess is a good as yours right now, but the two-word tweet was enough to get people talking as people begin to guess what it means.
I CAN'T BELIEVE DRAKE TWEETED ABOUT THE CARTER V! Please be old lil wayne on it. All of my dreams will come true

— Bert Fingerblast (@Masonjoness) February 10, 2014
I'm not getting excited about Drake tweeting "CARTER V" until I hear Wayne rapping like it's Carter 1 or 2

— Bruh Man (@TerrenceDaGawd) February 10, 2014
Ohhh nahhh drake&wayne putting that work in for that Carter V. #LETSGO

— NickAbate (@niickaabate) February 10, 2014
The two rappers have been working on the follow up to Young Money's 2009 compilation album 'We Are You Money,' set for a March release date 'Young Money: Rise Of An Empire' will feature Lil Wayne, Birdman and Euro's already released track 'We Alright'.