Kevin Hart And Drake Are Roasting Each Other On Instagram And It's Hilarious
2 February 2015, 12:59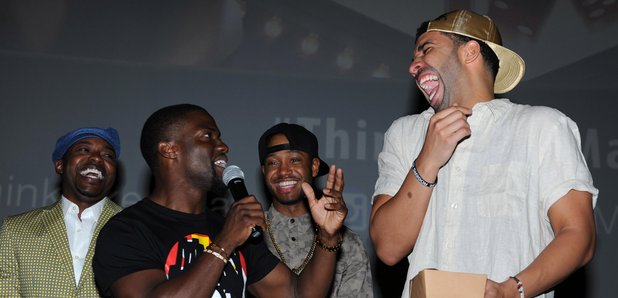 Over the weekend Drake poked fun at his friend Kevin Hart by re-posting an Instagram photo the comedian had shared of himself wearing a leather vest.
Drizzy begged, "Kevin... no. Please don't do this tonight" in the caption on the re-post, alongside some funny hashtags that included "#PleaseTellMeThereAreOtherOptions" and "BalmainWillNotHireYou." Even Meek Mill got in on the joke, writing "Let's start a petition for kev 2 take this shirt off."
Being the funny man he is Kevin Hart took the insults in his stride, but he wasn't about to let Drake and Meek get away without a roasting equally as funny.
Hart declared war, posting a photo from Drake's 2014 Rolling Stone's shoot that sees him smoking a hookah pipe in the bath.
"Who said that this shot would be great for UR career" he wrote. "This looks like a 'Sex Hotline' ad.... I bet the bubbles were your idea."
And it didn't stop there.
"This looks like a Lionel Ritchie album cover... what in the hell are you staring at??? This is truly your "WORST BEHAVIOUR" you just went 0 to 100 real quick with the dumbass picture."
When he wasn't busy giving Drake and Meek Mill an Instagram grilling this weekend, Kevin Hart appeared on Jimmy Fallon's 'The Tonight Show' where he went head to head with Will Ferrell in what is possibly the funniest lip-sync battle of all time.