Drake And Kanye West Perform Surprise Show Together
23 December 2013, 22:02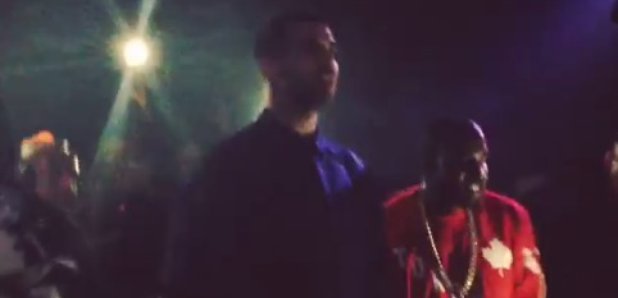 Watch Instagram highlights from their performance together.
Just weeks after Drake described Kanye West as his only competition, the two rappers were sharing the stage at a club in Toronto last night (22nd December). The two rappers gave a surprise joint performance at The Hoxton just hours after Drake had been to watch Kanye's 'Yeezus' tour show in the city.
(Warning: the following videos contains strong language that some people may find offensive.)
At the gig, Kanye described Drake as "the rap God" and not too long afterwards the pair were spitting Drake's 'Headlines' and 'Worst Behaviour' in the tiny venue, much to the delight of the crowd.
Kanye is seen swinging from the rafters of the venue in one video uploaded to Instagram and later attempting to rap along to Drake's track.
Both Drake and Kanye have enjoyed formidable years, with both rappers releasing new albums in 2013.