Joe Budden Previews Drake Diss Track: "My Words Ain't Ghostwritten"
28 June 2016, 10:59 | Updated: 28 June 2016, 12:07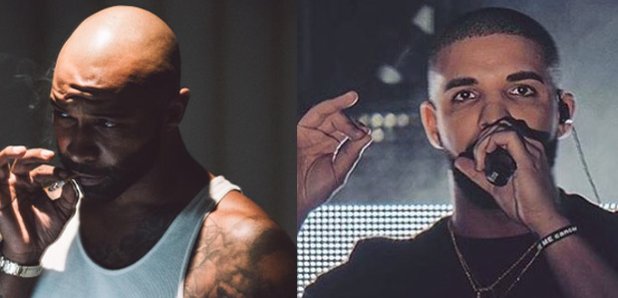 Joe Budden vs Drake.
Joe Budden has given fans a preview of his new diss track aimed at Drake.
The 'Pump It Up' rapper, who claims Drake has been sending subliminal shots at him in a number of songs, teased the diss on Periscope.
Watch below:
Despite the clip being very low quality, it is clear he is aiming shots at Drizzy.
"My words ain't ghostwritten I ain't Drake / That's all gimmick I'm authentic I ain't Drake / Ain't nothing wrong with it, only saying I ain't fake," he raps.
The track also appears to sample Drake's song 'Madonna'.
The growing beef between Joe Budden and Drake began shortly after 'Views' dropped earlier this year.
Budden claimed that Drake's latest album sounded "uninspired". French Montana then teased an upcoming collaboration with Drake called 'No Shopping' that featured Drizzy making a possible reference to Budden's 2003 song 'Pump It Up'.
Joe Budden then explained the reasons why he thought Drake was dissing him on new song '4PM In Calabasas'.
However the Slaughterhouse rapper has tried to downplay his Drake diss on Twitter.
If it was a diss that's the worse diss I ever heard lol https://t.co/jnmWqvfZEu

— Joe Budden (@JoeBudden) June 26, 2016

Is Drake ready for war with Joe Budden?