Joe Budden Chases Down Drake Fans Who Trolled Him Outside His House, Flips Out
25 July 2016, 09:57 | Updated: 25 July 2016, 12:24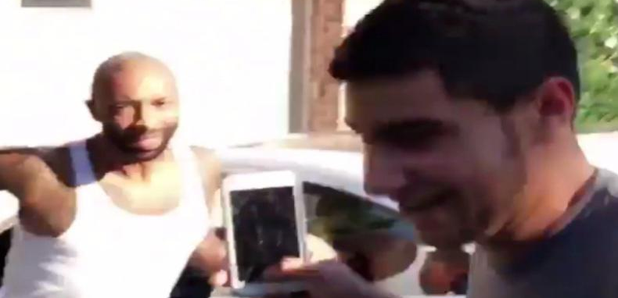 Budden was in no mood for banter.
Joe Budden chased down and threatened to kill some Drake fans after they heckled him outside of his house.
The rapper, who has been tormenting Drake over recent months with diss tracks and tweets, ran after two fans and even followed them in his car – before finally giving them a piece of his mind.
The Drizzy fans filmed the whole encounter on social media.
"If you come on my f*cking block again, I'm gonna kill one of you lil n*ggas," said Budden while attempting to break into their car.
Check out the epic encounter below:
First the Drake fans approached his house:
Then they heckled him outside, until Joe came out and chased them down:
Me and @RedaKidProdigy shitting on @JoeBudden pic.twitter.com/GXvR7jCm3B

— Ramsey Qandeel (@RamseyQandeel) July 24, 2016
A very angry Budden eventually caught up with their car and threatened them:
The internet wasted no time in creating hilarious memes of the situation:
Heard Joe Budden is on the new Grand Theft Auto Trailer pic.twitter.com/4RdYVzfAbu

— BK (@bk17__) July 24, 2016
Joe Budden on temple run pic.twitter.com/cmPefoZeei

— NBA RETWEET (@RTNBA) July 25, 2016
Joe Budden out here sprinting like hes a GTA character pic.twitter.com/OkPX4UWeu1

— She Wants The D (@SheswantstheD) July 25, 2016
Joe budden out here chasing down cars like will smith in bad boys pic.twitter.com/M3iIyfxjIu

— F TRUMP (@DrewWhosUrDaddy) July 25, 2016
Meanwhile, Joe Budden recently released his fourth diss track over the weekend called 'Just Because'.
So far, Drake has only responded on a song with French Montana called 'No Shopping', which was recorded before any of Joe Budden's diss tracks.