Drake Joins Jhené Aiko On Stage At Coachella To Perform 'From Time'
14 April 2014, 09:55 | Updated: 14 April 2014, 13:05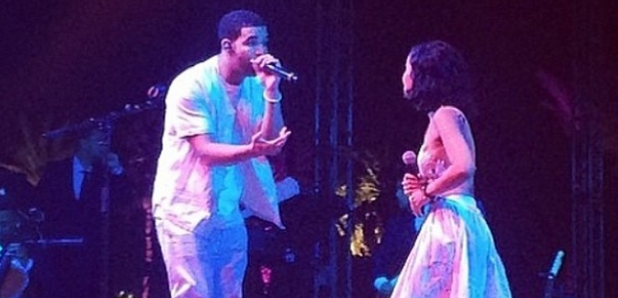 Watch Jhené perform with Drake and Childish Gambino.
Jhené Aiko surprised fans during her debut Coachella performance when both Drake and Childish Gambino joined her on stage to perform their respective collaborations 'From Time' and 'Bed Peace.'
The crowd were heard going wild as Drizzy quietly crept his way on to the stage and the two danced around each other.
After their duet, Drake said it was an "honour" to be there to perform with his friend, asking them to "make some noise for Jhené."
Watch Jhené Aiko perform with Drake below:
(Warning: These videos contain language that some people may find offensive.)
Watch Jhené Aiko perform with Childish Gambino below:
Watch Drake and Jhené's full performance below:
Coachella has been full of surprises this year, with Nas and Jay Z leaving their iconic feud behind to reunite for a special performance, Beyonce joined her sister Solange on stage for a surprise dance routine and Pharrell brought out Gwen Stefani, Nelly, Snoop Dogg and just about everyone else to tear down Coachella.