Drake Brings Jhené Aiko On Stage To Perform At London Show, Rihanna Spotted In Audience
25 March 2014, 21:59 | Updated: 25 March 2014, 22:07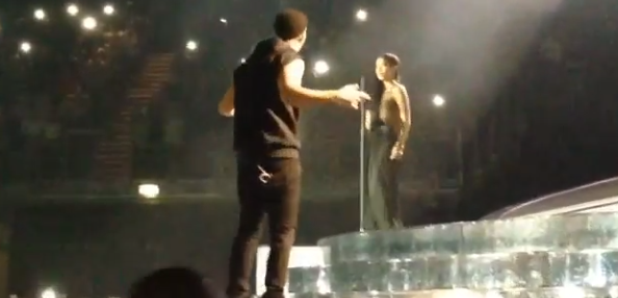 Watch highlights from the surprise performance of 'On Time'
With only a matter of days left of his 'Would You Like A Tour' tour Drake has surprised fans in London this week by bringing his 'From Time' collaborator Jhene Aiko on to the stage to perform their single together - all while Rihanna watched on from the audience.
The 'The Worst' singer wore a long black maxi dress with braided hair as she stole the limelight at London's O2 arena to sing alongside Drizzy while fans in the crowd captured the moment on their mobile phones.
Watch highlights from Drake And Jhene Aiko's Performance of 'From Time' below:
Let's see Drizzy dancing close up...
Capital XTRA DJ Tim Westwood managed to grab Jhene backstage for a quick photo.
Meanwhile, Drizzy fans managed to spot Rihanna taking in the show in the audience.
@Drake absolutely killed it tonight. Casually watching it and hanging with @rihanna #drake #rihanna pic.twitter.com/eGXnq8euTy

— Jack Clarkson (@JackClarkson66) March 25, 2014
Rihanna having fun at Drake's concert in London. pic.twitter.com/I8GOMIMskS

— Rihanna (@NikoFenty) March 24, 2014
@rihanna casually smashing it with us in V.I.P @Drake concert.. #8.3.1 pic.twitter.com/iF9IegkDWH

— L.A.D (@LoyaltyAnDesire) March 24, 2014
The performance follows Drake's Berlin show where Kanye West performed his single 'Black Skinhead' alongside him on stage, and his stop in Brussels where Rihanna and Drake put on a surprise performance of their collaboration 'Take Care.'
Catch all the highlights from Drake's 'Would You Like A Tour' tour here.