J Cole Brings Out Drake And Kendrick Lamar On 'Dollar And A Dream Tour'
24 July 2014, 10:40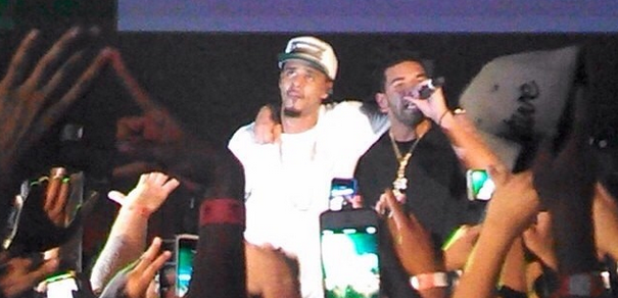 This is absolutely epic.
Last night was the most epic of J Cole's 'Dollar And A Dream' tour so far, with the 'Power Trip' rapper bringing out both Drake and Kendrick Lamar to join him on the stage in Los Angeles.
Performing two separate shows in one evening, Cole didn't disappoint with a special guest on either one. Drizzy took the stage in round one, performing some of his most loved songs including 'Worst Behaviour' and '0 To 100,' while K-Dot appeared later on and had the crowd going crazy to 'B***h Don't Kill My Vibe.'
Catch the incredible footage below.
(Warning: Some of these videos contain strong language that some people may find offensive.)
J Cole brings out Drake on 'Dollar And A Dream Tour.'
J Cole brings out Kendrick Lamar on 'Dollar And A Dream Tour.'
Earlier this week J Cole surprised fans at his Miami show by bringing Trey Songz on stage to perform alongside him.