Drake Spotted Filming Official 'Gods Plan' Video In Miami High School & It Already Looks Fire
6 February 2018, 10:27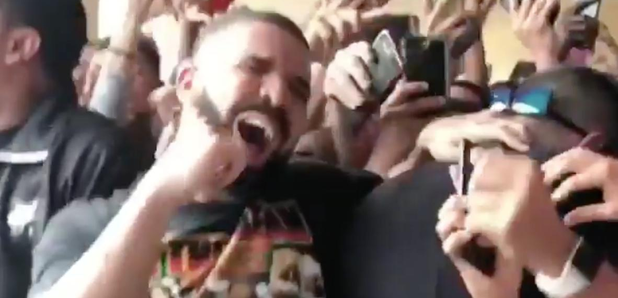 Drizzy also dropped a hint about his new album...
Drake has been spotted filming the highly-anticipated music video for his hit single 'God's Plan'.
The OVO rapper, who recently released new EP 'Scary Hours', travelled to Miami High School to shoot the visuals to the track.
Joined by his entourage, the rapper was also flanked by students while performing the song live for the first time.
Watch the first footage from Drake's 'God's Plan' video below:
While at Miami High School, Drake also donated $25,000 to the school and confirmed that he will be creating OVO-designed uniforms.
He also donated a $50,000 scholarship to a student, who is aiming to go to The University Of Miami.
Drizzy then thanked the students for being a part of the video, before giving a short speech.
"I hope you're all proud," he said. "I hope you had a great year and I hope you go on to do incredible things.
"I'm going to talk to your principal and hopefully, for the students that are still here next year or maybe later on in the year, when the album comes out, hopefully I can come back."
There is currently no confirmed release date for Drake's 'God's Plan' video.