Drake And Future Drop Surprise Mixtape 'What A Time To Be Alive'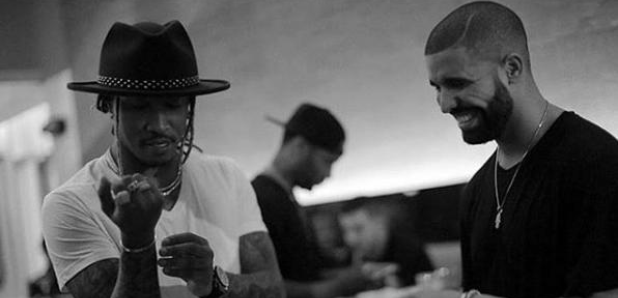 Drizzy and Future combined for their first joint project.
After a week of teasing, Drake and Future finally released their collaborative mixtape called 'What A Time To Be Alive'.
Drizzy confirmed the project on Saturday via his Instagram account, posting a picture of some diamond-encrusted cover art along with a release date.
The 11-track mixtape was put together in a matter of days, according to the Canadian rapper.
"I went to Atlanta for six days a couple weeks ago with the hopes of doing some songs with Future, and when you get around Future, it's like a vortex, that guy can outwork anybody right now," said Drake.
"Its tough to see someone do four, five songs in one night and not try to match it."
Drake credited Metro Boomin for much of the production (along with Southside, Boi-1da and Noah '40' Shebib) and thanked Ernest Baker for providing the mixtape's title 'What A Time To Be Alive'.
Drake and Future recently hit the road together as part of Drizzy's 'Jungle' tour.
Check out the tracklist for 'What A Time To Be Alive' below:
1. "Digital Dash"
2. "Big Rings"
3. "Live From the Gutter"
4. "Diamonds Dancing"
5. "Scholarships"
6. "Plastic Bag"
7. "I'm the Plug"
8. "Change Locations"
9. "Jumpman"
10. "Jersey"
11. "30 for 30 Freestyle"