Drake Escorts His Cousin To Prom & Pays For An Epic 400 Person After-Party
15 May 2017, 12:06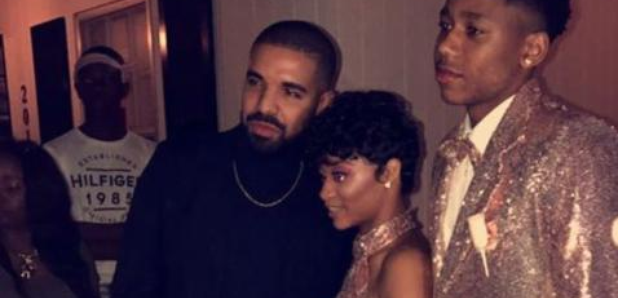 Drizzy acted as his cousin's chaperone at the high school event.
Drake flew to Memphis, Tennessee yesterday to escort his younger cousin, Jalaah, and her date to their high school prom.
The 'Passionfruit' rapper acted as the young couple's chaperone for the evening, and ensured that they attended the Fairley High School event in true superstar style.
According to TMZ, Drizzy paid for a white Rolls Royce to drive them to prom, and also hooked them up with their custom matching outfits.
Jalaah looked stunning in rose gold sequin-laden gown, whilst her date donned an equally dazzling suit in the same colour.
The publication also claim that Drake entered the actual dance to keep an eye on his younger family member, but didn't perform on the night.
The Canadian hitmaker took to Instagram to commemorate the occasion, tagging his cousin in the post whilst captioning #YoungLove.
Jalaah also hit up the social media platform to share her own heartwarming message.
The student posted a photo of herself side-by-side with her prom date and her famous older cousin, who looked sharp in an all-black outfit.
"Best Day Everrrr" she captioned the snap, with a number of heart-eye emojis.
And that wasn't all - Drizzy treated his lucky cousin to one final surprise before the night was over.
The rapper reportedly threw Jalaah a party at Hard Rock for around 400 of her friends after the high school prom had wrapped up.
Meanwhile, Drake has been busy fighting off rumours that he got an ex-porn star pregnant.