Drake Is Getting Dragged For His "Pathetic" Tattoo Of Himself Overtaking The Beatles
12 August 2019, 12:26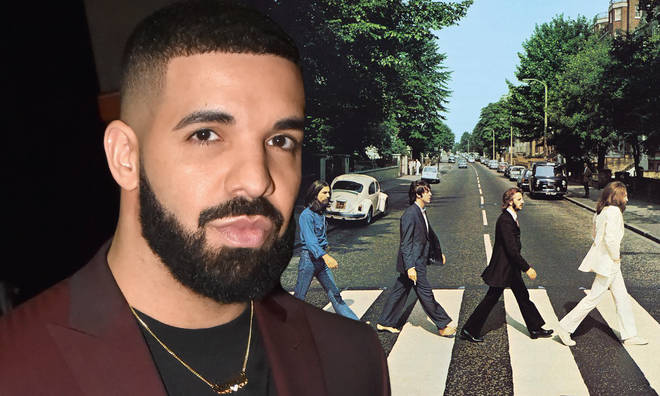 The Canadian rapper unveiled the new tattoo on his forearm, which shows himself walking in front of the Beatles on their iconic Abbey Road cover after overtaking their Billboard chart record.
Drake is facing backlash for his latest tattoo as people think he's throwing shade at The Beatles.
The 32-year-old rapper recently broke the iconic band's record of most songs simultaneously on the Billboard Hot 100's Top 10, and it appears he decided to commemorate the achievement with an inking.
Drizzy's new tattoo shows him walking in front of The Beatles on their famous Abbey Road album cover. You can see Drake looking back and waving at them.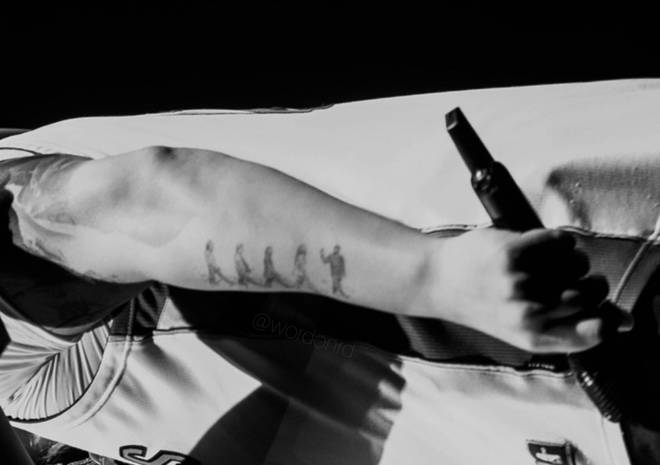 "I got more slaps than the Beatles," Drake spits on his collaboration with Meek Mill, 'Going Bad.' The rapper is obviously proud of his record-breaking accomplishment. However, some people aren't pleased with his new tatt.
The rapper has been labelled "pathetic" and "arrogant" for comparing himself to the rock group, while others pointed out the difference between selling music back in the 60's and now in the current digital age.
"Drake really thinks he's more influential than THE BEATLES. the clownery. Drake is the most narcissistic rapper of our time and you hate to see it," wrote one user.
I love drake but that's so tacky and cocky lmfao it's not that deep

— 𝘔𝘪𝘤𝘩𝘢𝘦𝘭𝘭𝘢 Ⓥ (@____michaella) August 9, 2019
So Drake said he's got more slaps than the Beatles and proceeded to tattoo said Beatles on his arm with him infront of them. Do you think my good Sir Paul McCartney has a drake tattoo? Who's winning. Eediat ting dat

— 💖Cole💖 (@curvycole) August 11, 2019
you can't possibly say somebody like drake is more successful than the beatles. the beatles have influenced thousands of artists over the past 50+ years, drew a then unprecedented amount of attention and success, and were one of the first to make their type of music

— ella (@meIanchoIybIues) August 11, 2019
Narcissistic tattoo. If people remember a Drake song in 50 years we will gladly eat our words.

— Transistor (@TransistorBand) August 10, 2019
"okay but remember that The Beatles got their popularity without streaming, social media, or other online promotion that shared their name and music to the world," said another, "Drake has popularity with all of these new ways but The Beatles did this all on their own..."
Drake is yet to respond to the criticism.